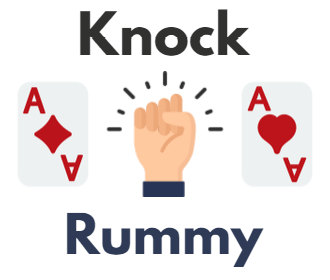 Definition
Knock Rummy is a variation of the popular Gin Rummy card game, included in the overall genre of Rummy-style games. Due to its simplified nature, Knock Rummy is one of the most common variations played nowadays.
How to Play Knock Rummy?
Knock Rummy is played with the Anglo-American standard 52-card deck. Jokers are omitted, and there are no wild cards to be found in this game.
Dealing of cards
The dealing of cards can be altered, from game to game, but a simple rule of thumb can be followed, although it means that less rounds can be played in games with more Players.
Generally, if two people are playing, deal each Player 10 cards and leave the rest in the remaining stock. If three or more people are playing, deal each Player 7 cards.
Gameplay
Melds are not played on the table like normal Rummy games. Instead, cards are held in the hand until a Player knocks. It is only when a knock occurs that Players lay their cards out on the table and tally up their deadwood scores.
In another rule change from other Rummy variations, due to the limited number of cards considered "in play" for each Player, Knock Rummy needs only two cards in a set, or three cards in a sequence.
A Set is a grouping of cards that are all the same rank (A, 2-10, J, Q, K). In Knock Rummy, a two-of-a-kind is considered a Set.
A Sequence is a sequential set of cards in ascending or descending rank that are all the same suit (♥♦♣♠). They are also known as a "Straight Flush". A Sequence can be formed with a minimum of 3 cards.
Ending a round
Knock Rummy is frequently played in rounds, or "hands", making up a total "game". In order to end a round, a Player makes the decision to knock.
A Player should knock when they assume that they have the lowest deadwood score, compared to their opponents. Generally, Players only choose to knock when they have from between 0-2 deadwood cards.
Rules of Knock Rummy
Cards are not melded onto the play area. Instead, cards are kept in the hand until one of the Players chooses to, or is forced, to knock.
The combinations of cards are formed in the hand, and played on the table once a Player decides or is forced to knock.
Remaining cards that cannot form melds are known as "deadwood." Hence, a hand with remaining cards that cannot meld will have their scores added up and declared as deadwood. A 7 and an 8 in the hand would be "deadwood 15." This adds 15 points to your score total.
A game of Knock Rummy is usually composed of multiple rounds, with the winner of the overall game being the highest overall scorer.
Scoring Explained
Knock Rummy follows the conventional card scoring method of Rummy. Melds do not count for the overall score, and only deadwood cards are used for the calculation of card score.
The deadwood scores are explained in the chart below.
| Card(s) | Deadwood score |
| --- | --- |
| K, Q, J, 10 | 10 Points |
| 9 | 9 Points |
| 8 | 8 Points |
| 7 | 7 Points |
| 6 | 6 Points |
| 5 | 5 Points |
| 4 | 4 Points |
| 3 | 3 Points |
| 2 | 2 Points |
| Ace | 1 Points |
For the purposes of scoring from turn to turn, there are several special rules. It is confusing, but remember, the Player wants a low deadwood score, and a high game score.
The winner of a round is the Player with the lowest deadwood score.
In order to calculate the Player's game score, each Player will subtract the winning deadwood score from their own.
They will take a score penalty, and subtract that number from their game score total.
The winner will be paid those points from each Player and add them to their game score.
If a Player knocks without winning the round, they must pay an additional 10 points to the winner, but do not take a further penalty.
If a Player both knocks to end the game, and has no deadwood in their hand, they are considered "going rum." When going rum, the winner is paid the normal difference in deadwood score they are owed, plus an additional 25 points from each Player.
Example Play
The following is a possible hand in a game of Knock Rummy. As cards are not laid out on the table, each Player will have the same amount of cards in their hands during each of their turns. This depends on the number of Players. For the sake of this guide, assume this is a game with 4 Players.
Player 1 has 8♣, 9♦, 10♦, J♦, 6♠, 6♣, 7♣
Cards cannot be used for the same meld, so Player 1 must choose whether to declare a set of 6s, or take the straight 6, 7, 8. In this case, it would be wise to take the straight, as this leaves Player 1 with a deadwood of only 6. Such a hand would be highly advantageous, 6 is a very low deadwood score.
Frequently Asked Questions
Are Aces high, or low, in Knock Rummy?
Aces in Knock Rummy, for the purposes of Play, are considered both high and low. An Ace may be played on either end of a sequence, either before a 2 or after a King. As for scoring at the end of the game, Aces are always scored low at 1 point.
When do you knock exactly?
A Player may knock at any time after they discard their card at the end of their turn. Knowing when to knock and when to keep playing is what distinguishes a good from a bad Knock Rummy Player.
Do you have to discard in Knock Rummy?
Yes, each Player must discard one card at the end of their turn. If the card they are discarding is their third to last card or less, then they must knock on the table and declare the game over.
Also read