Our guides
---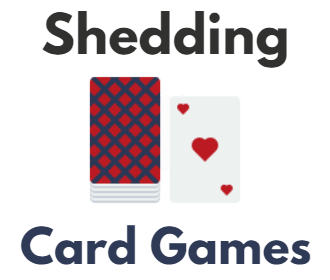 What are Shedding Card Games?
Shedding Games are a type of card game in which the goal is to remove the total number of cards from a hand. Normally, a Shedding Game is played with either a large hand, or a small hand with a number of stringent rules that make it difficult to shed on a whim.
They are a style of card game popular for home play as time-wasters between multiple people in the United States.
How to Play Shedding-Type Games?
Shedding card games traditionally use the standard Anglo-American 52-card deck. However, some games include the use of the 2 Jokers.
The winner is most normally the first Player to empty their hand, or "go out". Rummy is a variation of shedding games for example. In fact, many games are both Shedding Games and another type of game. Any game in which the goal is to reduce your hand to 0 is a Shedding-Type Game.
Dealing
Dealing in Shedding Games regularly falls into two categories. Either, many cards will be dealt, such that the entire, or nearly the entire, deck has been dealt. Or, each Player will be dealt a small number of cards, between 5-10, and there will be a stock in the middle that can be drawn from when no legal moves are possible.
Rounds
Most Shedding card games are not "one and done." Rather, many of them utilize a form of match-play, where either a higher score or a greater number of rounds won confer an overall victory.
Gameplay
These games normally include multiple ways to discard multiple cards at a time. In the meld-making variants, for instance, the melds themselves offer the ability to shed multiple cards at once from the hand.
Special Cards
In many Shedding Games, there will be cards that are granted particular properties. Sometimes, it is as simple as the Deuces of Rummy, where the 2s in that game are considered to be wild cards that can take the place of any card in a meld. At other times, the cards each have specific and special conditions upon being played, such as the Queen, Ace, and 2 of Crazy Eights.
Winning
The universal factor among all Shedding Games, as it is indeed their definition, is the inclusion of a win condition that triggers when a Player has completely emptied their hand of cards.
Strategy
In most Shedding-Type Games, there are certain strategies that remain universal as all of them can be won by reducing the hand to 0.
Always try to reason out the optimal strategy. Do not make a hasty move, then realize another move might have resulted in a greater outcome.
Balance playing special cards, if they exist, with regular cards. Expending all the special cards at once could leave you with more cards than if you had played more tactfully.
Draw from the deck only when it is absolutely necessary, even if you are not compelled to make a legal move when available. Drawing actively prevents you from achieving the win condition.
Variants
Meld-Making Shedding Games
Many Meld-Making Games can also be considered Shedding games, if the aim of the game is to "go out." This is true for virtually every Rummy game, in which a round ends when a Player goes out, and other Players are penalized for cards remaining in the hand.
Trick-Taking Games
Some Trick-Taking Games also involve shedding mechanisms, such as Presidents, where Players are rewarded for being the first to go out, rather than winning based on tricks taken.
Speed/Spit
A unique member of the Shedding family, Speed and Spit do not utilize a system of turns. Instead, Players shed their hands simultaneously, with the first to do it physically the fastest winning.