Introduction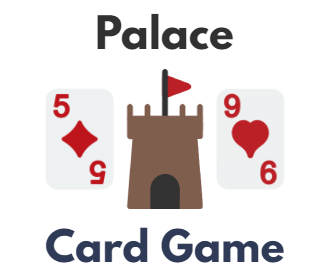 Palace, also sometimes called Castle, is a card game designed by famed French game designer Bruno Faidutti.
Palace is a card game that belongs to the Shedding family of card games, although its proprietary rules differentiate it from many other shedding-type games.
How to Play Palace?
Palace is played using one or two standard Anglo-American 52-card decks, depending on the number of Players participating in a given game. Palace can be played by 2-5 Players, with 2-3 Players using one deck, and 3-5 Players using two decks.
The Deal
Once the cards are adequately shuffled by the predetermined Dealer, each Player will be dealt three card face down, with each card in its own distinct position:
[Left] [Middle] [Right]
Players are not permitted to look at these face-down cards.
Once each Player has been dealt the appropriate face-down cards in their correct orientation, then they will be dealt 6 cards which they are permitted to look at. Players choose three of these cards, and place them face-up on top of their face-down cards, with one card overlain on top of each face-down.
The remaining three cards make up the Player's hand. Once each Player has six cards on the table, three face-down and three face-up, the Dealer should place the remaining deck face-down in the center of the Play area, and turn over the top card in order to create the discard pile. Once this occurs, gameplay begins with the first Player to the left of the Dealer.
The Objective
The aim of the game is to use up the deck, after which Players play from their "Palace", the 6 cards in front of them on the table. Once those 6 cards have been completely used up, Players have won the game
The Gameplay
A Player's turn begins by playing all legal cards that they can. In order to play a card, Players add it to the discard pile if it fulfills the appropriate conditions. Suit is irrelevant, but cards played on the discard pile must either be equal to the present card on the discard pile, or one higher.
As 2s are special cards, the order of normal cards is 3-Ace, with Aces always being high and "wrapping around" allowed, with 3s being Playable on Aces.
Players may discard as many cards as are in their hand, if they are legal moves. There are also special cards, the 10s, and 2s. 10s and 2s may be played on ANY card, and have their own special mechanics when Played.
2s are wild cards, which can not only be played on any card but can also have any card played on top of them, allowing a Player to play a minimum of two cards at once.
10s are "Bombs", cards that clear the entire discard pile. When a 10 is played, the whole discard pile is removed from play, and another card is overturned from the stock to create a new discard pile, before the 10-Playing Player's turn continues if possible.
Players that cannot discard are obligated to draw the entire discard pile, and bring the whole stack into their hand. At the end of a Player's turn, they must draw cards from the stock until they have at least 3 cards in their hand. Players cannot draw from the deck to have more than three, a Player will only have more than 3 cards in their hand if they are forced to draw the whole discard pile.
Once the entire stock has been used up and is either in the Player's hands, or removed from play by bomb cards, Players may then begin to "Clear the Castle."
Clearing the Castle
Players decide whether they will move from left to right or right to left, and must continue in that order as they clear first the face-up cards, and then the face-down cards which will be flipped face-up once their corresponding face-up has been discarded.
The Player may discard cards from the castle instead of cards from their hand, once the Stock has been depleted. Players cannot play any of the face-downs until all of the face-ups have been played, though they may be flipped over once the corresponding face-up is played.
Ending
Once a Player has discarded all of the cards in their castle, they are the winner, regardless of the cards in their hand.
Rules
The Palace card game rules are as follows:
Players must discard a card, otherwise, they must draw the entirety of the discard pile.
2s are wildcards, 10s are bombs.
Players must discard either a card of the same rank, or one rank higher, as the top-card of the discard pile.
If Players have less than 3 cards in their hand at the end of their turn, they must draw from the stock until they have at least 3 cards.
If a Player manages to play a four-of-a-kind or place all four cards of an equal rank on the discard pile during the same turn, they will be able to Bomb the pile as though they played a 10.
Scoring
Palace does not have a numerical scoring system, but rather a winner-take-all style of gameplay. The first Player to clear their castle of all face-up and face-down cards is instantly declared the winner, with all other Players declared the losers.
Example Cards in Palace
Imagine the following are your 6 visible cards dealt to you at the start of the game:
8♠ 5♣ J♦ Q♥ Q♣ 7♣
As the game progresses only in ascending, rather than descending order, it would be prudent to place the highest-ranking cards on top of the castle. This is because it is more likely for the game to end with the cards at a higher rank than a lower rank, especially as more cards are depleted from the deck by bomb cards.
Frequently Asked Questions
How many cards do you start with in Palace?
Palace begins with each Player being dealt a total of 9 cards. 3 face-down, 3 which will be placed face-up, and 3 in the hand.
Can you play the Palace card game with two people?
Yes. Palace can be played with two people with minimal rule changes, though keep in mind that Players should only use one deck instead of two when playing with two Players.
What does a Joker do in Palace?
Jokers do not exist in Palace and should be removed from the deck before playing Palace if they are present. There already is a wild card in Palace, this is the 2. When a Player plays a 2, they may play any card on top of it.
What happens when you play an Ace?
Aces do not have a special function, but they are the highest value card in Palace. As 2s are a special wild card, they are not considered the "lowest" card for the purposes of a wrap-around, and as such Players must play another Ace, or a 3, on top of an Ace.
Is Palace a game of luck?
Palace, like all card games, is a game of some luck. This is the entire purpose of a deck of cards, to introduce elements of randomness into a game.
However, Palace is not exclusively a game of luck, such as something like War. Palace is instead a game that combines strategy and luck, with Players given plenty of opportunity to alter the outcome of their game.
Also read