Introduction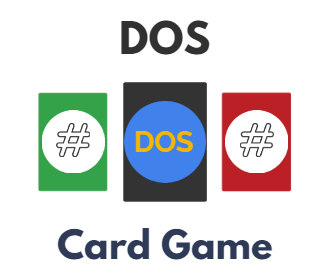 DOS, pronounced "Dose", is a proprietary shedding-type card game made by Mattel, the manufacturer of the popular card game Uno.
DOS's name derives from the Spanish word for the number two, just as Uno is derived from the Spanish for the number one.
How to Play DOS?
DOS is played using the 112-card DOS deck, sold by Mattel. These decks can be found in most stores where board games and proprietary card games are sold. Decks can also be bought directly from Mattel's online storefront, and shipped straight to your house!
Setup and Deal
The game begins with a Dealer being chosen randomly, who will then shuffle the deck and deal 7 cards to each Player. Up to 8 people can play a single game of DOS.
Once each Player has been dealt the requisite number of cards, the Dealer will draw the top two cards of the deck and deal them out to the center of the table, face-up.
These two cards will make up the two discard piles that give the DOS card game its name. Once these discard piles are formed, Play can begin with the first Player sitting clockwise from the Dealer.
Gameplay
During their turn, Players are able to discard from their hand in one of two ways.
Either the Player discards a card that is the same rank as the top card of one of the two discard piles.
Or the Player can discard two cards whose sum equals one of the two top cards.
For example:
Player 1 plays a 5 on a discard pile topped with a 5.
Alternatively, Player 1 discards a 2 and a 3 on top of the 5.
Matching cards
When cards are added together, they must be the same color. However, cards do not have to be the same color as the discard-pile color.
For example, if adding a 3 and 4 onto a red 7, the 3 and 4 do not have to be red, but they do both have to be the same color (Green, Red, Blue, or Yellow.)
Players may make as many moves as they are able to in a single hand. It is possible to win a game of DOS on your first turn, though this is extremely unlikely to occur.
Once a match has been made, the cards are cleared in that pile and a new card is turned up from the deck.
For example, say the top cards of the discard piles are 7 and 4.
Player 1 plays a 4 on top of the 4, and the cards are cleared.
A new card is dealt into the discard pile from the stock, a 5.
Player 1 has a 2 and 3, and plays them on top of the 5, before clearing it.
This continues until a Player can no longer make a move, and then the next Player takes their turn.
If a Player is completely unable to play any cards, they draw a card. If that card is able to be played, they may do so. Otherwise, they end their turn.
If the stock is completely empty, reshuffle the pile of cleared cards and use it as a new stock.
Power card meanings
There are two special "Power" cards in the DOS deck.
Hashtag cards
The hashtag cards, which have a symbol that looks like this: #, are considered wild cards. They are a set color, but can be used for any number.
2-cards
There are also the 2s. The 2s, or Dos cards, have a numerical value of 2, but they can be considered any color when adding cards together. This makes 2 cards very useful, as they can be added with any color card.
Ending
Gameplay continues until one Player is able to completely empty their hand of cards.
When a Player has 2 cards remaining in their hand, they place one of those cards to the right or left of the two discard piles, creating a new third discard pile. After they place this card down, they end their turn.
Every other Player at the table will get one more turn to make a move.
After their turns are taken, and the rotation returns to the Player with one card in their hand, that Player will compare their final card to the cards in the three discard piles. If they are able to match, they win the game. If they are not, they must draw a card and end their turn.
DOS Card Game Rules
See the official rules below:
There must always be 2 discard piles at all times. After one is cleared, another must be dealt out from the deck immediately.
When adding two cards together in order to clear a larger card in the discard pile, those two cards must be the same color. However, they do not need to be the same color as the card which they are clearing. Cards do not need to be cleared with cards of the same color.
2s are numerically equal to a 2, but can be considered any color. The # cards can be considered any number, but are all of a set color and can only be combined with other cards of the same color for the purposes of clearing.
Scoring & Points
DOS uses its own scoring system, though it will be familiar to fans of the Shedding genre of games.
In DOS, the winning Player is awarded points based on the number of cards remaining in their opponents' hands at the end of a round:
| Cards | Point Value |
| --- | --- |
| # | 40 |
| 2s | 20 |
| 9s | 9 |
| 8s | 8 |
| 7s | 7 |
| 6s | 6 |
| 5s | 5 |
| 4s | 4 |
| 3s | 3 |
| 1s | 1 |
DOS is generally played using Match Play, where one "game" of DOS is made up of multiple games with a score carried over between each game.
A winner is determined once their total score across all of their games equals or exceeds 100 points.
Example Scenario
This section will give examples of when to use the 2 Power cards, so that it is more clear how to use them properly.
The 2s are used as "addition" cards, able to be added to any card in a Player's hand. For example, imagine that there is a Red 9 and a Blue 4 in the discard piles.
Player 1 has a Green 7, and two 2s in their hand, among other cards.
Player 1 has the option of Playing their Green 7 in conjunction with one of their Dos cards, adding up to 9.
Players could also combine both of their 2s in order to equal the Blue 4. However, this is unadvisable unless it is their last turn for the game.
Wasting Dos cards by adding them to each other is a waste. Two Dos cards could potentially clear 4 cards from your hand, whereas adding them together only clears two.
The # cards are used as wild cards of any number, though they are a set color that cannot be changed. For example, imagine that there is a Blue 5 and a Green 9 in the discard piles.
Player 1 has a Blue # card, among other cards in their hand. Player 1 can play the Blue # on the Blue 5, as they are both blue, but they cannot place it on the Green 9, as they are different colors. Color does not matter for regularly numbered cards, but the # cards must be played on the same color.
Strategy & Tips
Use your 2s to add them with other cards, rather than adding them with each other or just playing them on top of other 2s. By using your 2s in conjunction with your other cards in the hand, you can clear twice as many cards as normal.
# cards and 2s are worth significantly more points if they are in your hand at the end of the game. As DOS always allows you to take one more turn before the game ends, be sure to use any remaining 2 cards or # cards in your hand if you are able to. They should be prioritized over other cards in your hand as they are worth so many more points if they remain in your hand at the end of the game.
FAQs
How do you win in DOS?
As mentioned above, DOS uses a simple scoring system that is familiar to many Shedding-game Players. Players that empty their hands of cards are awarded points for each of the cards remaining in their opponent's hands.
How is DOS different from UNO?
DOS and UNO are actually quite different from each other, though they share the same core game mechanic of shedding cards from the hand. UNO as a game is much more focused on the Power cards, and cards are discarded onto cards that are ranked one higher or one lower.
In DOS, the Power cards are much less prominent, there are two discard piles instead of one, and cards must be matched, rather than form a tableau.
How many cards do you play with in DOS?
There are 112 cards in total inside a DOS deck, and each Player is dealt 7 cards at the start of the game. However, if a Player has no possible moves, they draw a card. Over time, if they get unlucky, a Player could have many more than 7 cards in their hand.
What is the reverse card in DOS?
DOS has no reverse card. This game is much less focused on the aspect of the Power cards and is instead a more traditional shedding game. There are Wild Cards in DOS, but no cards with "special effects" as there are in UNO.
Also read