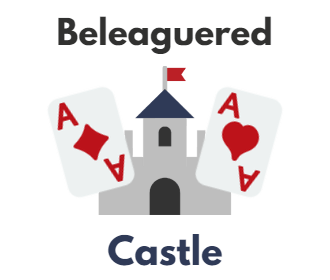 Introduction
Beleaguered Castle, also known as Laying Siege is a challenging open-packer solitaire game that requires strategy and planning to win. It is sometimes compared to FreeCell's gameplay, but without the free cells to maneuver cards.
Goal
The objective is to build up the four foundation piles from ace to king by suit, removing all cards from the tableau.
Set Up and Layout
Use a standard 52-card deck.
Remove the 4 aces to form the foundation piles and set them up in a vertical column in the center.
Shuffle the remaining 48 cards.
Deal out 8 tableau piles with 6 cards each, 4 piles on the left and 4 piles on the right of the foundations. Each pile fans sideways with all cards face-up.
Gameplay and Making Moves
During gameplay, only the top card of each of the 8 tableau piles is available to play. You can move cards from the tableau piles to either the foundations or other tableau piles, one card at a time.
The tableau piles are built down by rank, ignoring suit – so a 9 of hearts could be placed on a 10 of spades, for example.
The foundations are built up by suit from Ace to King.
When you create an empty tableau pile by removing all of its cards, you gain flexibility because any available card can then be placed in that empty spot. This allows you to maneuver longer runs of cards by temporarily storing some in the empty piles.
The key is to try to empty tableau piles as early in the game as possible, so you have more room to move cards around. The game gets progressively easier as you eliminate more tableau piles.
Beleaguered Castle Rules
In short, the rules for Beleaguered Castle Solitaire can be summarized as follows:
Foundation piles need to be build up by suit from Ace to King.
Only one card can be moved at a time.
Once a card is placed on the foundation, it cannot be moved.
Tableau piles build down by rank, ignoring suit.
Ending and Winning
The game ends when all cards are moved to the foundations. The game is won when the foundations are complete from Ace to Hing in each suit.
The odds of winning Beleaguered Castle are about 1 in every 3 games.
Strategy
Below you can find some strategy tips for winning at Beleaguered Castle Solitaire:
Find and expose the 2s early to start building the foundations. The 2s may be buried, so strategize how to uncover them.
Create empty tableau piles as soon as possible. This gives you more flexibility to move cards around and maneuver longer runs.
Take advantage of being able to place any card in an empty tableau pile. Use them to temporarily hold cards as you move partial or full builds around.
Don't move cards to the foundation unless you are sure you can build up that suit. There is no redeal if you get stuck.
Prioritize exposing face-down cards in tableaus to see all your options. Buried cards are dead cards.
Look ahead several moves to set up sequencing that will allow key cards to be uncovered. Think strategically.
You may also like