Introduction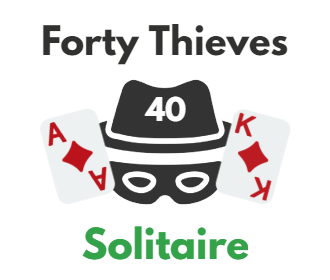 Forty Thieves Solitaire is a challenging card game that relies heavily on strategy rather than luck. The name comes from the fact that 40 cards are initially dealt with in the tableau. It is also known as Napoleon at St. Helena and Roosevelt at San Juan.
The key to success is to know how to transfer builds by cleverly using empty tableaus, and when not to make an obvious play that could block a more important play later on. The discard pile grows and then shrinks again in a successful game.
How to Play Forty Thieves Solitaire?
Forty Thieves is a one-player game that requires two decks of standard 52-card decks—totaling 104 cards. No jokers are used.
Objective
The objective of the game is simple: move all of your cards onto the so-called "foundations". In reality, actually making it happen is not that simple.
Setup and Tableau Layout
To set up the game of Forty Thieves, shuffle two decks of cards and deal 40 cards into 10 tableau piles of four cards each.
The cards in each pile should overlap so that all 10 cards are visible. The remaining cards form the stock pile, which is set aside face down.
Leave space for eight foundation piles and a discard pile. The foundations can be placed above or below the tableau, as desired. After setup, there may be duplicate cards due to the use of two decks.
Gameplay
Move the cards one at a time. Below we will explain the possible moves.
Tableau Moves
Making a move is straightforward – just pick the card you want to move and go ahead and shift it. You can take it to the foundation, or you can even move it to a different column in the tableau. Empty columns can also be used.
However, there are two criteria in order for a card to be allowed to move to a column in the tableau:
The card needs to be one rank lower than the one already there.
The card needs to be of the same suit.
8♦ can go on 9♦, Q♣ can be played on K♣, and so on.
Foundation Moves
Foundations have to be in descending order, from Ace to King.
As opposed to the tableau, for a card to be placed on a foundation it needs to be one rank higher than the card already there. Similar to the tableau, the card needs to have the same suit.
Stock and Discard Moves
| Stock Top Card | Discard Pile Top Card |
| --- | --- |
| Can be moved to foundation | Can be moved to foundation |
| Can be moved to tableau | Can be moved to tableau |
| Can be moved to discard pile (face-up) | Can not be moved to stock pile |
Rules
The general Forty Thieves rules are as follows:
You need to use two standard decks, with jokers removed.
40 cards are dealt into 10 tableau piles.
You are only allowed to move one card at a time.
The top cards of the stock and discard piles can be used.
No redeals are allowed, meaning the stock can only be used once.
Strategy and Tips
Forty Thieves Solitaire requires strategy and careful planning. The odds of winning are only 1 out of 10.
Here are 5 tips to improve your gameplay:
Empty piles are crucial: Use them to transport builds or partial builds from one tableau to the next. The more open piles you have, the more expansive builds you can move.
Play low-ranked cards first: Start by playing the lower-ranking cards and keep the higher-ranked ones in the discard pile. This is a great way to begin your game.
Utilize double cards: In a two-deck game, each card is present twice on the board. If a double card from the discard pile can be played from the tableau, it's best to do so – this creates more empty tableau piles. Empty piles are important to keep track of as it helps you to strategize.
Plan carefully: Take a moment to think through your plan. Look for opportunities that will unlock more cards, giving you more chances to increase your likelihood of success. It's important to take a moment to reflect before you make a move.
Don't be quick to play cards that aren't in suit or sequence: If you save them for later, they could open up more chances down the line.
Similar Games
Josephine
Diplomat
Indian
Little Forty
Maria
Lucas