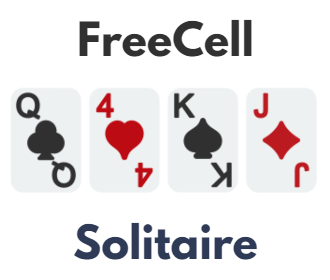 Introduction
FreeCell, a solitaire-style card game created by Paul Alfille in 1978, has seen immense success and popularity over the years. Just like Spider and Klondike, this enduring classic is enjoyed by gamers of all ages around the world, mainly digitally.
The objective of FreeCell is relatively simple: move all cards from eight cascading columns onto four "home cells" located at the top right corner of the board.
How To Play FreeCell
To play FreeCell Solitaire, one needs a standard 52-card deck and a flat surface on which to place the cards.
Dealing and Setting Up
The setup for FreeCell involves dealing out fifty-two cards face up onto eight tableau piles, with six cards in each pile except for the bottom row which has seven.
Then, four free cells are placed above the tableaus where players can temporarily store single cards while they attempt to create sequences of descending ranks within each suit (e.g., 9♠ 8♠ 7♠).
Gameplay
During gameplay, players use the empty spaces created by moving around their columns as well as the vacant free cells to rearrange their hands until all forty-two remaining cards have been moved into foundations in ascending order, beginning with Ace and ending with King.
While there are strategies that may help increase the success rate, ultimately playing FreeCell comes down to logic and planning ahead; analyzing potential moves carefully before making them will likely lead to victory more often than not.
Winning
To win at FreeCell means achieving complete organization of all fifty-two cards – building all suits consecutively from Aces through Kings – without any empty spots left open at the end of the play.
FreeCell Rules
Having gone through the basics of how to play FreeCell, it is important to be familiar with the detailed rules which will ensure a successful game. To master this classic card game, one must understand these key points:
Tableau Piles: Cards should be placed in descending order starting with King and alternating colors (red and black). Empty spaces can only be filled with Kings or sequences that are already built on other columns.
Foundation Piles: Each pile should begin with an Ace and build up in sequence by suit until all cards have been moved into their respective foundations.
Free Cells: These cells may contain single or multiple cards but can never hold more than four at once; any excess cards must be moved back onto existing tableaus or foundations before new cards can enter free cells. Players may use these as temporary holding spots while attempting to rearrange hands for better moves.
In addition, there are certain restrictions that need to be followed when playing:
No card can leave a foundation;
Empty tableaus cannot accept any new cards;
Players cannot move multiple piles at once without first moving each individual card from those piles separately;
If a player runs out of legal moves they must restart the game from its beginning.
Scoring Points
Scoring in FreeCell is a simple and straightforward process. Players are given points for each card that they move to the foundation piles, regardless of whether it was moved from the tableau or free cells.
Each Ace earns 1 point; moving any other card earns 2 points.
If players win the game by completing all eight foundations before running out of moves, they receive an additional 50-point bonus.
Tracking scores can help determine success throughout gameplay, but ultimately winning requires skillful strategic decisions and thoughtful planning ahead every step of the way.
Tips and Strategy
As with any game, there are certain strategies that can help players improve their chances of winning. Here are a few tips to consider when playing FreeCell:
Start by moving all Aces and Deuces onto the foundation piles as soon as possible; these cards will be easier to move than those in the tableau or free cells.
Make sure to leave enough empty spaces on the board for maneuvering around higher-numbered cards.
Always plan several moves ahead before making your selection so you don't get stuck later on.
By utilizing some basic strategic thinking and planning ahead, players can maximize their points earned while minimizing missteps along the way.
Frequently Asked Questions
Why can't I move my stack in FreeCell?
The answer is that the game follows certain rules, which don't allow players to move more than one card at a time. This means that when you try to move a stack of cards, it will only move the top card of the stack.
What are free spaces?
Free Spaces, also known as 'FreeCells', are a key part of the game. These are empty spaces on the board that can be used to temporarily store cards that have been moved from their original location. This allows players to move cards around in order to build up piles and make progress in the game.
Can every hand of FreeCell Solitaire be won?
The answer to this question is not a simple yes or no. Generally speaking, most hands of FreeCell can be won if the player uses their skills and strategies correctly.
However, there are some situations in which it may not be possible to win, due to the card layout or other factors. For example, if there are too few cards in any one suit for them to all be moved into place, then it may not be possible to win that particular hand.
How many moves is good in FreeCell?
Generally speaking, the number of moves required for a successful game of FreeCell Solitaire depends on the player's skill level. For experienced players, it may be possible to complete a game with as few as thirty moves. On the other hand, novice players may require more than sixty moves before they can finish the game.
You might also like: