Introduction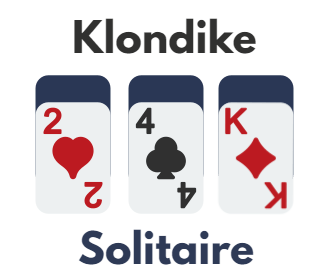 Klondike Solitaire is a variation of the classic "patience card game" Solitaire. Klondike is distinct from regular Solitaire because tableaus, the stacks of cards in descending order, are not made from a single solid suit. Instead, tableaus are made of alternating suits.
Furthermore, the goal of Klondike is different from that of regular Solitaire. Rather than forming complete tableaus, the goal of Klondike Solitaire is to fill the "ace zones", 4 spots above the regular tableau area that are begun with the ace cards, and then stacked in ascending order with cards that follow their suit.
How to Play Klondike Solitaire?
For those wondering how to play Klondike Solitaire with cards, the setup is actually quite easy. All it takes is the Standard 52-card Anglo-American deck that most people are familiar with.
How do you deal cards in Klondike?
After the deck is shuffled, cards are dealt at the start of the game in a "Staircase pattern." There will be 7 total rows of cards, the first row with only a single card in it. The second will have two, the third three, and so on until there are 7 total rows.
The remaining cards will be left in a pile, or "stock." There should be a total of 28 cards in the 7 rows, and then 24 in the stock.
All of the cards in the row, except the card placed last in the row, will be flipped down. In order to reveal a card that is flipped down in a row, all cards above it must be moved to another row, or cleared from the board to the ace zone.
Deal Three Rule
Traditionally, Klondike uses the "Deal Three" rule. When no other possible moves can be made, the player may "Deal three" from the stock, or flip up 3 cards from the pile. These cards are stacked on top of each other, and only the top card may be used for play.
If the top card is used, then the card under it is used.
If there are no more valid plays, even after dealing three, then another three may be dealt on top of the previous 3.
As before, only the top card may be used for play, and once it is used, the card under it can be considered the top card.
Tableaus
Tableaus in Klondike, unlike in other Solitaire games, are formed of alternating suits as explained in the "Example Hand" section.
Once an ace is revealed, it is placed in one of four special piles above the play area, known as the ace zones. Once an ace is in the ace zone, cards from its corresponding suit can be placed there and removed from play. Once an ace zone is complete, with all of the cards of its suit in ascending order from Ace to King, that zone can be removed from play.
Ending
The game is considered won when all of the ace zones have been completed and removed from play.
Klondike Rules
The essential rules for the Klondike card game can be summarized as follows:
Cards can only be revealed when there are no cards on top of them in the row.
Ace are technically "low" in reference to tableaus, however once an ace is revealed, it is automatically placed into the ace zone, and does not participate in the tableau creating process.
Only Kings can fill an empty row.
Multiple sections of cards may be moved, so long as they have somewhere to go. A sequence of 5♦4♠3♥ may be placed on top of a sequence of 7♥6♣
Scoring & Points
Klondike, when played with physical cards, is usually not scored. The game is only a matter of win or loss. However, digital versions of Klondike usually do keep some kind of score, and provide a timer.
Points are awarded in scored versions of Klondike for each card placed into the ace zone (besides the ace) and then a bonus of 100 points for a completed ace zone, for a possible high score of 880.
The final score can be considered a combination of score and time.
Example Hand
An example tableau in a game of Klondike might look like this:
K♦Q♠J♥10♣9♦8♠7♥6♠5♦4♠3♥2♣
An example ace zone in a game of Klondike might look like this:
A♦2♦3♦4♦5♦6♦7♦8♦9♦10♦J♦Q♦K♦
Tableaus alternate suit in a descending order, while the ace zones are all cards of the same suit in ascending order.
Basic Strategy & Tips
It might be necessary to draw from the stock multiple times in order to get the card the one card that you need in order to achieve a tableau. This is fine, as most games of Klondike are "infinitely re-dealt", meaning there is no official punishment for drawing over and over again.
The point of Klondike is to waste time, as is the case of most patience games. There's no need to rush your plays, think and plan out what you're going to do before you do it. Unless you are playing a digital version of the game, time is not a factor in scoring.
The purpose of the game is not necessarily making tableaus, as in other versions of Solitaire. The win condition of the game is completely filling the ace zones. Instead, the purpose of tableau building in Klondike is to free up the unknown cards, in each row. As these cards can only be brought into play by revealing the cards on top of them, tableaus are necessary but do not by their own merit score points or win the game.
Try to reveal the cards in the rows further to the right, particularly row 5, 6, and 7. These rows have the most unrevealed cards, and as such revealing those cards as quickly as possible increases the chances of winning the game in fewer moves. The sooner you reveal all 4 aces, the easier it is to win.
Frequently Asked Questions
How is Klondike different from Solitaire?
Klondike is based on tableaus of alternating suits, whereas traditional Solitaire, or other offshoots such as Spider Solitaire, are based upon tableaus of the same suit.
Furthermore, there are the "ace zones" at the top, which are separate from the tableaus. Not only are these Ace zones a unique aspect of Klondike, they are actually stacked in ascending order, as opposed to the normal descending order of regular Solitaire card-stacks.
Can you win every game of Klondike?
Like all versions of Solitaire, not every game is winnable. Due to the mathematical nature of this genre of patience game, as well as the strict rules that must be followed in order to achieve a full tableau, there are some games that have no possible moves, some games that cannot be won, and games that can be won very quickly.
Overall, the odds of winning a game of Klondike, as opposed to another form of Solitaire, is much higher. Generally, the Player has about an 80-90% chance of winning.
Can I play cards from the ace zones?
As the goal of the game is to fill out all of the ace zones with their matching suited cards, it is usually not in the Player's best interest to do this.
However, it is allowed by the rules of Klondike. In order to play a card from the ace zone, it must be played in a similar manner to the drawing cards from the stock. That is to say, only the top card is valid for play.
Also read