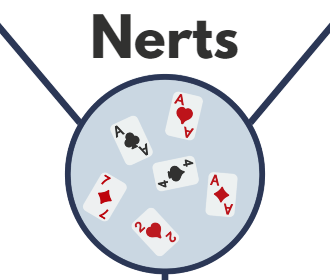 Introduction
Nerts, also known as Nertz, or Peanuts, is a multiplayer version of Solitaire. It can be considered as a combination of the Speed and Solitaire Genres of games.
The Nerts card game is particularly popular in the United States, where it was once known as Pounce, and the United Kingdom, where it is also known as "Racing Demon."
How to Play Nerts?
Nerts is played using the standard Anglo-American pattern of the 52-card deck. The number of cards is determined by the number of Players.
Setting up
Each Player will setup the game by presenting their own deck of cards, to be held in their non-dominant hand for the remainder of the game. When a Player needs to draw from this stock, they will always draw three cards at a time, and Place them on top of their "nerts pile", face up.
The instructions from here on out will detail how to play Nerts in a general sense.
Dealing the cards
At the start of the game, each Player will deal 13 cards to themselves from their deck, arranged in a solitaire style tableau. That is to say, a long column of cards overlapping each other vertically.
Nerts Pile
The top card of this tableau is face-up, while the remaining cards below it are dealt face-down. This is the "nerts pile".
Work Piles
Once each Player has dealt their tableau, then four additional cards will be dealt, side by side without overlapping, each face-up. These areas are known as the "work piles", and will serve as places to shift your cards while you attempt to make a complete tableau from the nerts pile.
Gameplay
There is a common play area in the center, where Players must build their foundations and eliminate cards from their nerts pile by playing them into the common area, or moving them to their work areas. In order to win the game, a Player must eliminate all of the cards in their pile.
Foundations, or tableaus that are in the common play area, follow normal solitaire set up conventions. Cards must be arranged in descending order.
Foundations
A Foundation may be begun by an Ace, or by a King. Further, all of the cards must be the same suit in order to build upon a foundation.
Work piles work differently. In order to stack cards into one of the four work piles, cards must alternate color, but still follow a descending rank. For example, a Red (♦♥) Jack can only be covered in the work pile by a Black (♣♠) 10.
Turns and making moves
There are no turns in Nerts. Instead, the game is played simultaneously, as fast as possible. Players must think quickly, and have quick reactions as well.
The first place to touch their card to the table is considered the only Player allowed to make that particular move.
If there is a foundation that can accept a 4♦, and two Players have a 4♦ in their hands, the first to touch their card to the foundation takes the spot on the foundation.
Players may only use a single hand to move cards, holding their stock in their other hand. Moving cards to work piles, drawing cards, placing cards on foundations, all can only be done with a single hand.
Ending the Game
When a Player has emptied their nerts pile, they are able to declare "Nerts" and end the game. However, this is not required. A Player may continue playing, even when their pile is empty, in order to increase their score.
Nerts Rules
Aces are high and low, and can be used to begin a foundation. Kings may also be used to begin a foundation. A King must build a descending foundation, where an ace may build a descending or ascending foundation.
The official rules dictate that only one hand may be used to touch cards in your work piles, your nerts pile, and the foundations in the common Play area. Generally, the other hand holds the card stock.
If you have no possible moves, deal three cards face up at the top of your waste pile. Only the top card may be used from the waste pile at a given time.
Scoring & Points
The scoring for Nerts is actually very simple. It is encouraged that each deck of cards has a back that is unique to each Player. For example, Player 1 has gold backed cards, Player 2 has red backed cards, because this will prevent cards from getting confused ownership in the play area.
When a Player finally declares "Nerts" the game immediately ends, and scores are tallied up.
Each Player will receive 1 point for every card that they played in the Play area, and will then subtract 2 points for every card still in their nerts pile at the end of the game. For example:
Player 1 managed to place 9 cards onto foundations in the play area, and still has 5 cards left in their pile. This means Player 1 will end the game with -1 points. It is the Player with the most points that wins.
This is why it is possible to keep playing, even when a Player has emptied their pile, but has not officially declared "Nerts."
It is possible to declare "Nerts" and still lose the game, so sometimes it is advantageous to allow the game to continue in order to increase your own score.
Strategy
This is a game of speed and skill, and requires fast reflexes and good long term strategy.
Try to be quick. There are no turns in Nerts, so it is entirely possible to miss out on your opportunity to play onto a foundation if you aren't quick.
Cards cannot be taken from the foundation once they are played. If you have a possible bigger foundation in your work pile, try to get those cards out of the work pile and onto the foundation. Points are not awarded for work pile cards.
Try to use all the cards in your waste pile if you can. Its possible to get stuck, like in any Solitaire game, and if that happens in a game with more than two Players your chances of winning disintegrate. Cards you need might get stuck at the bottom of your waste pile if you draw from the stock carelessly.
Example Play
The following is a possible set up at the start of a game of Nerts:
Top card of the nerts pile: 8♠
Work Piles: 4♦, K♥, 6♥, 9♣
Remember, there are 12 hidden cards beneath the 8♠ at the top of the nerts pile. In order to access those cards, the 8♠ must either be placed in a work pile, or a foundation. The 8♠ may not be played on the 9♣ work pile, however, because work piles must be composed of alternating colors.
Frequently Asked Questions
Can you play Nerts with two people?
Yes, the Nerts card game can be played with two people. It could even be played with one person, though it would really only be a time trial to determine the speed with which you could play.
As long as each Player has their own deck of cards, Nerts can be played with as many people as can fit reasonably around the play area.
What happens if you get stuck?
Although it is very rare in games with more than two-players, it is possible for every Player to become stuck. If this happens, they may shuffle their waste pile to reform their stock, essentially shuffling their stock in order to have another chance to get the cards they need.
However, ALL Players must agree to this. If you get stuck in a Nerts game with 3 or more Players, it is unlikely that you will be able to do anything until the game is over.
How many points do you get if you win?
Winning in by emptying the nerts pile does not convey any extra points onto the Player. Instead, the Player simply does not lose any points for having cards remaining in their pile.
Remember, the point penalty for having remaining cards in the nerts pile is 2 points, while foundational cards only grant 1 point.
You must play twice as many cards as remain in your pile in order to break even. Having no cards in your pile is reward enough in this game.
Can two people declare Nerts at the same time?
It is possible, but does not matter. The game ends once one Player declares "Nerts". Since being the official "declarer" does not grant any additional points, both Players declaring "Nerts at the same time is meaningless because the game ends as long as one of them says so.
Also see