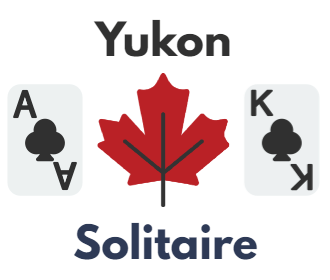 Introduction
Yukon Solitaire is played with 52 cards, similar to other popular solitaire versions like Klondike and Pyramid. The goal of the game is to move all the cards from the tableau piles onto their respective foundations in descending numerical order by suit.
Despite its complexity, Yukon Solitaire has quickly become a favorite among Patience players due to its interesting rules that require quick thinking and skillful moves.
How To Play Yukon Solitaire
Gather your materials. You'll need one 52-card deck and some sort of flat surface to play on. A kitchen table or coffee table works well; just be sure there's plenty of room so that you can move around your cards easily as you play.
Shuffling
Shuffle the deck thoroughly before beginning play. This ensures that each hand is fair and random, making it impossible to predict what will come up next during the course of the game. As an optional step, divide the deck into two separate piles and then shuffle them together for extra security against bias in the order of the cards.
Laying out
Lay out seven columns from left to right with six cards face down and one card face up in each column. The remaining 24 cards should stay together in a stack nearby. This is known as your draw pile, which you'll use throughout gameplay when needed.
Making Moves
Start moving groups of cards according to their suit, either alternating between black/red or spades/hearts depending on preference.
The goal is to create four stacks at the end where all thirteen cards within each stack are sorted numerically from Ace (1) through King (13).
That said, any empty spaces created along the way should immediately be filled with whatever card appears face-up in adjacent columns, or with the topmost card in your draw pile if needed.
You do this until all seven columns contain six face-down and one face-up card once more.
Winning
Once all four suits have been completed successfully—a process called 'building'–check over your work carefully before declaring victory. Yukon Solitaire requires careful strategy and planning ahead; any mistakes made early on could jeopardize success later down the line. This means that it's important not to take any shortcuts while playing.
How long does a game of Yukon Solitaire take?
When it comes to the length of a game of Yukon Solitaire, this can vary depending on skill level. Generally speaking, a quick game may take anywhere from 15 minutes up to an hour for more experienced players. If you're still getting used to the rules and building your strategy, then it could take longer than that.
Rules for Yukon Solitaire
Now that you know the basics of how to play Yukon Solitaire, it's important to understand the rules governing the game. These include:
Aces can be moved either up or down in numerical order, but only if there are no other cards blocking their path.
Kings cannot move at all unless they're followed by an Ace which can then take their place when moving upward or downward.
Cards must always alternate between black/red or spades/hearts.
The goal is to finish with four stacks where each stack contains thirteen cards that are sorted numerically from Ace (1) through King (13).
Once all four suits have been completed successfully—a process called 'building'–check over your work carefully before declaring victory!
Scoring Explained
In Yukon Solitaire, scoring is based on the number of moves it takes to build all four foundations. The more efficiently you play and plan your moves, the higher your score will be.
| Move | Score |
| --- | --- |
| Each card moved | 1 Point |
| Card removed from a pile | 2 Points |
| Moving an Ace onto its foundation | 5 Points |
| Building a King | 15 Points |
Yukon Scoring Table
As well as these direct scores, bonus points can also be earned through special moves such as revealing face-down cards or using empty columns strategically.
Example Scenario
The tableau in Yukon Solitaire is the playing field where you'll be completing your stacks. It consists of seven columns, each with an Ace as its starting card and six cards beneath it. To win, all four suits must be built up in descending order from King to Ace within these columns.
To illustrate this example layout, let's say we have a column with the following cards: 10♠️ 9♥ 8♦ 7♣ 6♠️ 5♥ 4♦ 3♣ 2♠️ A♥. In order for the suit to build correctly (from King to Ace) we would need to add one more heart card on top of the stack before moving onto another suit or color.
As long as all other suits are also building properly at any given time, then you can successfully complete a round.
Strategy & Tips
To get the best possible score, it's important to keep a few key tips in mind.
Focus on making single moves whenever you can instead of attempting to move multiple cards at once.
Be sure to scan the cards quickly and look for any empty columns that could be used strategically; this often leads to bonus points!
Always place Aces onto their foundations as soon as they become available – five points each time!
Take your time when planning out your moves – rushing will only lead to lower scores in the long run.
By following these simple steps and taking some extra care with every turn, players can maximize their chances of achieving higher scores while playing Yukon Solitaire.
Also read