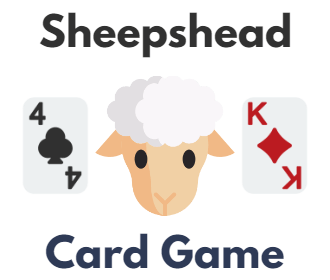 Definition
Sheepshead is a trick-taking card-game, an American variation of the Bavarian card-game Schafkopf. Particularly popular among the American-German community in Wisconsin. The game is considered the official game of Milwaukee.
How to Play Sheepshead?
Sheepshead is played with a 32 card deck, composed of cards drawn from the standard 52-card deck. The cards from 7-A are used from all four suits (♥♦♣♠).
The most difficult aspect to remember when playing Sheepshead is that there are essentially two suits of cards: The Fail Suit, and the Trump Suit.
Trump Suit
The Queens and Jacks of all suits are considered the Trump Suit, as well as the entire suit of diamonds (7-A). These cards are ordered in a particular set of strength.
This rank order does not follow the conventional rank order of most card games. Instead, the order of rank in Sheepshead is as follows: Q of all suits J of all suits, A♦, 10♦, K♦, 9♦, 8♦, 7♦. These represent the strengths, in order, of all the trump suit cards.
Fail Suit
The Fail suits (♥♣♠) are ordered as the diamond cards of the Trump suit, A, 10, K, 9, 8, 7 in that order. There is no suit among the Fail suit that trumps any other. Only rank matters in a match-up of two fail-suits.
Deal and Set Up
This guide will assume that this is five-handed or five-player Sheepshead. Other variations will be explained below.
At the start of the game, the deck of 32 cards will be shuffled. Each Player will then be dealt 6 cards, and then two cards remaining in the deck will be placed face down on the table. The Player clockwise to the dealer will be given the option to "pick" the two face down cards. If he passes, the next Player may choose to pick.
Whatever Player decides to take those two cards shall become the "Picker". The Picker must then discard two cards from their hand, placing them face-down in the center of the table where the picked cards had been.
Gameplay
Regardless of who the Picker is, play begins to the immediate clockwise of the Dealer. This Player will "lead" the trick. The card played by this Player in their first turn is the "lead", and all other Players must "follow suit" if possible.
For example:
If Player 1 leads with a 5♠, all other Players must play a ♠ card if they have one in their hand.
Only when a player does not have the ability to follow suit may they play another card. Trumps, for example, may only "break suit" if the lead suit cannot be played. Each Player will play a card in this fashion, either following suit or breaking suit, until all Players have laid down one card into the trick.
The trick, or the cards of each Player laid on the table, is then "taken" by the Player who managed to lay down the highest value card based on the scoring chart below. Queens always win, for example.
In a situation in which two Players play a Queen card in the same trick, the Player's Queen which follows suit will win the trick. If neither Player follows suit, the Queens follow this order of strength: Q♣, Q♠, Q♥, Q♦
When not playing a Trump card, the highest value fail suit that follows the lead suit will win the trick.
The game will move in this fashion, with the Lead position moving clockwise from Player to Player, until the final trick is played and all cards have been exhausted.
Winning
In order to win a particular game of Sheepshead, a Player must consolidate 61 points, based upon the cards in their tricks taken. A scoring chart will be provided below in the Scoring section in order to make scoring clear.
There are 120 possible points to be gained in a deck of Sheepshead cards, and so in order to win a Player must control at least 61 points. If no Player is able to get 61 cards, the deck is reshuffled and the game is replayed.
How to play 2-handed Sheepshead?
Sheepshead can also be played with only two players. The rules are slightly different.
Each Player is dealt a total of sixteen cards. Eight of these are on the table, four face down, and four face up. The remaining eight are dealt to the Player's hand as normal.

Both Players contribute two cards to the trick, one from their hand and one from the face-up table cards. The trick is taken normally, based upon the highest value card played in the trick.

The facedown card immediately below the face-up table card is then flipped, and added to the available table cards for the next trick.

Play continues until both Players exhaust their hands and table cards.
Sheepshead Rules
Sheepshead card game's most important rules can be seen for quick reference below.
The Queens are the most important cards in the game, if you are going to be the Picker, do not discard your Queens.
Remember, Aces and 10s outrank Kings.
Jacks also outrank Kings, which is important to remember because that is not a conventional ranking for Jacks in most traditional card games.
The Picker is gambling on the two cards being better than two cards in their hand. Once the Picker takes those two cards, they must discard two cards.
The Sheepshead deck is only 32 cards, from 7-A
Scoring
Here is a cheat sheet that can help calculate point totals at the end of a game:
| Cards | Points |
| --- | --- |
| Aces | 11 |
| Tens | 10 |
| Kings | 4 |
| Queens | 3 |
| Jacks | 2 |
| 9, 8, 7 | 0 |
The Sheepshead deck has a total of 120 points, and in order to win a particular game one Player must amass at least 61 points, or a simple majority, of the total.
On a game to game basis, many people bet on games of Sheepshead for money, making for an alternate scoring system. Similar to gambling games, it is also possible to score actual victories based on how much money someone bets. For $5 per win, a person with 25$ won five games, for example.
Example Hand
A starting hand in Sheepshead may look something like this:
7♦9♠K♦10♣9♦Q♣
If you were to choose to be the picker, these might be the two cards you receive:
Q♣J♦
Basic Strategy
Queens trump all other cards, do not be afraid to play a Queen when you can take a trick. Sheepshead is different from other trick-taking games because there are many more trump cards proportionally to the total number of cards in the deck, slightly less than half. Because of this, there is little reason to save your best cards for another trick. It is likely your opponents have a trump card of their own to play.
If you are leading, play low value cards. It is more easy to win a trick when you are one of the last people to play your card, as you will be able to see every other play beforehand. When leading, you are the least likely to win your trick unless you play a Queen.
The fail suits are not better or worse than each other, but suits must still be followed. Pay attention to the board, and keep track of what cards have been played. If other Players have exhausted their trump cards, and you are leading with a suit that has been largely removed from play, you may win a free trick simply because other Players cannot follow suit and have no trump cards.
Frequently Asked Questions
How many cards are dealt in Sheepshead?
In the most common, five-player variation of Sheepshead, 6 cards are dealt to each Player, with two discards in the center of the play area.
Can you play with 3 Players?
Yes, in three-handed Sheepshead, each Player is dealt ten cards, with two cards in the middle as the blind. The Picker will then face the other two Players in the trick.
How many trumps are in Sheepshead?
There are 14 trump cards in Sheepshead, with 18 "fail" cards. These trump cards are all Queens and Jacks, as well as all cards in the suit of Diamonds.
What is a Blitz?
A Blitz is a special betting position for games of Sheepshead that are played for cash. A blitz is a declaration by a Player that they have both black (♣♠) Queens in their hand. This doubles the potential cash prize for winning the game.
What does Schneider mean in Sheepshead?
A Schneider in Sheepshead is a term for 30 or 31 points for the losing side. If a Player that loses a game manages to "be Schneider" it means that although they lost, they were able to accumulate more than 30, or at least 31 points during the course of the game.
To be Schneider halves the losses of a particular game, so betting $5 and losing but going Schneider means that you must only pay $2.50
Does a 10 take a King?
Yes, in Sheepshead 10s outrank Kings. This is confusing and makes the initial learning curve of the game a bit difficult, but once you understand that Queens, Jacks, Aces, and 10s outrank Kings, Sheepshead becomes a very simple game to understand.
Also Read