Introduction
Guandan (掼蛋) is a 4-player partnership climbing card game that originated in the Jiangsu province of China. The name Guandan literally means "throwing eggs", though it is also known by the name Huai'an Running Fast, after the city where it originated.
The game has seen a surge in popularity in recent years, spreading across China and even gaining some international players.
What is Needed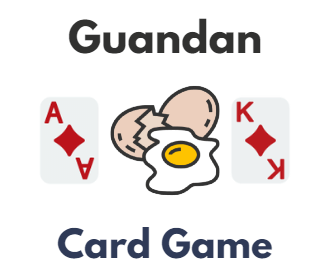 To play the Guandan card game, you will need:
4 players
2 decks of playing cards, jokers included (108 cards total)
A table to play on
Paper and pen to keep score
The 4 players split into 2 partnerships, sitting opposite each other at the table.
Objective of Guandan
The goal of Guandan is to empty your hand of cards before your opponents. This is done by playing cards and combinations of increasing rank. The first partnership to empty their hands wins the hand.
Over multiple hands, partnerships gain levels, with the goal of reaching the highest level A. There are 13 levels in total, corresponding with the card ranks.
Deal and Setting Up
For the first hand, the deck is shuffled and cut. Each player draws 27 cards. The player who drew the cut card leads the first trick.
For subsequent hands, the order of drawing and leading is determined by the order players finished the previous hand. The players who finished the last draw first, and the first player to finish leads.
Card Ranks and Combinations
The cards rank from high to low as:
Jokers (highest)
Level Cards
K, Q, J, 10, 9, 8, 7, 6, 5, 4, 3, 2
A (lowest)
Level Cards
Each hand is played at a certain level, starting at 2 and going up as partnerships gain levels. The Level cards are the cards that match this level number. So at Level 5, the 5 cards are Level Cards.
Level cards in the heart (♥) suit act as wild cards and can represent any other card.
When making sequences like Straights, Level Cards take on their normal numerical rank.
Guandan card combinations are
| Combination | Description | Example |
| --- | --- | --- |
| Singles | Single cards | 9♠ |
| Pairs | Two cards of matching rank | 5♦ 5♣ |
| Triples | Three cards of matching rank | 6♠ 6♥ 6♦ |
| Plate | 2 consecutive triples | 3♥ 3♠ 3♣ 4♣ 4♦ 4♥ |
| Tube | 3 consecutive pairs | 2♠ 2♥ 3♠ 3♣ 4♣ 4♦ |
| Full House | A triple plus a pair | 9♠ 9♥ 9♦ J♥ J♣ |
| Straight | 5 consecutive cards | 8♥ 9♠ 10♣ J♥ Q♦ |
| Bomb | 4+ cards of matching rank | 4♠ 4♥ 4♣ 4♣ |
| Straight Flush | 5 consecutive cards of the same suit | 10♠ J♠ Q♠ K♠ A♠ |
| Joker Bomb | 4 jokers, the highest bomb | 🃏 🃏 🃏 🃏 |
Combinations are ranked by their highest card, using the card ranks above
How Bombs are Ranked
Keep in mind that a Bomb can consist of up to 10 cards of the same rank. They are ranked in three ways:
Number of cards: for example, 4-4-4-4-4 beats 5-5-5-5.
Current level: for example, if the current level is 6, then 6-6-6-6 will beat 7-7-7-7.
Card strength: for example, assume again the current level is 6, 3-3-3-3 will beat 2-2-2-2.
Gameplay Phase
The player who won the right to lead plays a combination from their hand face up on the table. This can be any valid combination like a Pair, Straight, Bomb, etc.
Play proceeds clockwise around the table. On their turn, each player has the following options:
Play a higher combination of the same type as the lead. For example, if a pair of 5s is led, they could play a pair of 8s.
Play a Bomb, which beats any normal combination.
Say "pass" and do not play any card.
After each player has had a turn, if 3 players in a row have said "pass", the trick ends. The cards played are collected by the player who played the last (highest) combination.
The player who played the last cards then leads a new trick, playing any valid combination from their hand.
This repeats, with tricks continuing until one partnership has no cards left in their hand.
Play continues after this with the other partnership playing until all cards are played.
The order players empty their hands determines the scoring.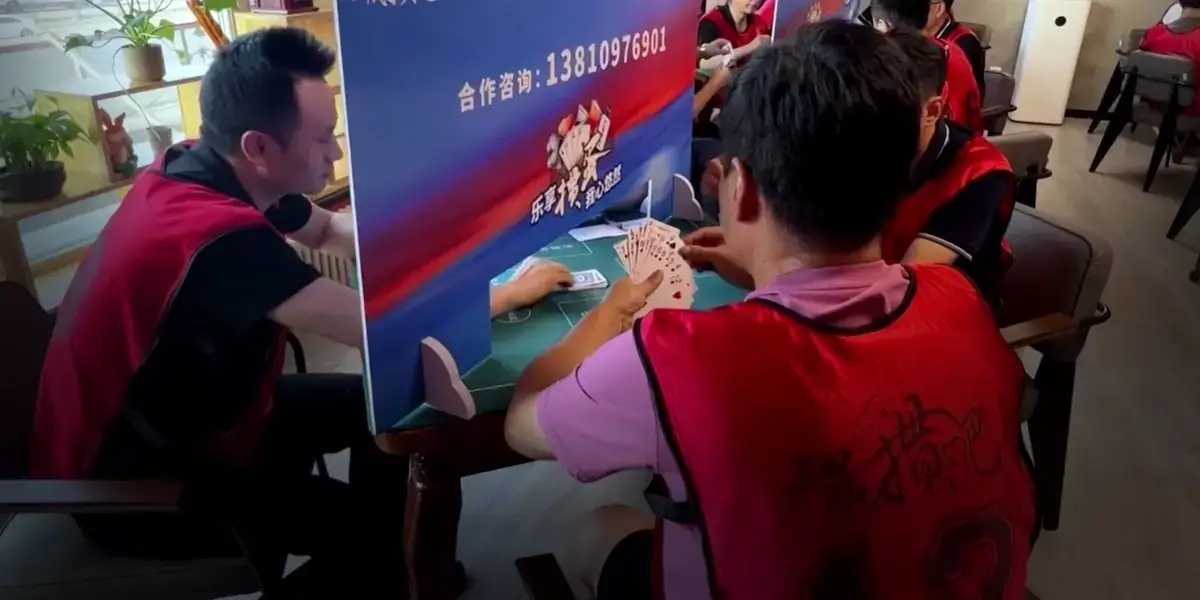 Scoring
The order in which players empty their hands determines the scoring and level promotion after each hand
Banker – First to empty hand
Follower – Second to empty hand
Third – Third to empty hand
Dweller – Fourth to empty hand
The partnerships gain levels based on the order the players on their team finish:
1-2 Finish
If the players on a partnership take Banker and Follower (1st and 2nd), this is called a 1-2 finish. This results in the partnership being promoted 4 levels.
For example, if they were on Level 5, a 1-2 finish would promote them to Level 9.
1-3 Finish
If the players on a partnership take Banker and Third (1st and 3rd), this is called a 1-3 finish. This results in the partnership being promoted 2 levels.
For example, if they were on Level 7, a 1-3 finish would promote them to Level 9.
1-4 Finish
If the players on a partnership take Banker and Dweller (1st and 4th), this is called a 1-4 finish. This results in the partnership being promoted 1 level.
For example, if they were on Level 8, a 1-4 finish would promote them to Level 9.
The goal is to reach Level A and win with a 1-2 or 1-3 finish at that level. This is the only way to win the overall game.
Guandan Rules Summary
A summary of the essential rules of Guandan can be seen below:
4 players in fixed partnerships, 108 cards, empty your hand to win
Cards rank: Jokers, Level, A, K, Q, J, 10, 9, 8, 7, 6, 5, 4, 3, 2, A
Play combinations of increasing rank
Level cards are special cards matching the current Level
Reach Level A and win 1-2 or 1-3 to win the game
Strategy Tips
Below we elaborate on 3 key strategy tips for playing Guandan.
Lead Bombs Strategically
Though powerful, bombs are a finite resource. Be strategic about when you use them. Lead with a bomb only when you or your partner have a strong chance of winning the trick. Otherwise, you may waste bombs your partner needs later. Save them to disrupt opponents' late-game pushes!
Force Sequences to Gain Information
Leading lower sequences like straights or tubes can draw out opponents' high cards in those sequences. This provides information on what cards they lack in a sequence. Their plays also reveal what types of combinations they want to discard. You can try and use this information to your advantage.
Leverage Your Partner's Strengths
Pay attention to your partner's leads and plays. Lead card types and sequences that you know align with your partner's strengths.
For example, if your partner plays high triples frequently, they likely have additional high triples they are saving. Lead low triples to draw those out and thereby support your partner's win condition over your own.
Helpful strategy resources
Optimal strategy goes a lot deeper than what is explained above, the below resources might be able to give you some more detailed insights.
Recent Popularity and Media Coverage
In the past few years, Guandan has seen a huge surge in popularity across China. It is estimated that over 100 million people actively play. Regional tournaments are broadcast on TV.
It is praised as an easy-to-learn but deeply strategic game. The partnerships and increasing rank structure facilitate social interaction. Some businesspeople use Guandan to build relationships and connections with potential partners and clients.
In 2022, Guandan was included as a demonstration event at China's National Mind Sports Games. This is a step towards it potentially becoming an officially recognized sport in the future.
You May Also Like