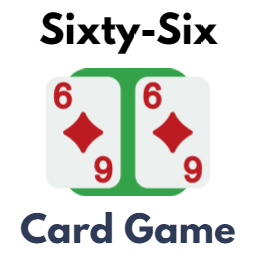 Introduction
Sixty-Six, also known as 66, is 2-player trick-taking card game originating from Germany. The original name Sechsundsechzig (the German translation). The game is related to a number of regional trick-taking games such as American Pinochle or French Bezique.
How to Play 66?
The 66 card game uses a modified version of the Anglo-American 52-card deck. In Sixty-Six, like in another popular German game (Schafkopf), all copies of the numbered cards from 8-2 are removed from the deck, leaving 24 cards in the deck.
The game is split into rounds and games. The ultimate aim of the game is to achieve 7 Game points, points awarded for winning rounds. In order to win those rounds, a Player must accumulate 66 or more "trick points", points awarded for each card in a taken trick.
Sixty-Six is a two-player game due to this small number of cards. It is possible to play with up to 4 people, but this dramatically increases the chances that no Players can accumulate the required 66 trick-points. For this reason, this guide will assume that only two Players are in a game.
Preparation
To start, the required cards (Ace, King, Queen, Jack, 10, 9) are removed and made into their own deck. The remaining cards are set aside. This 24 card deck is then shuffled, and each Player is dealt 6 cards, in packets of 3. Once each Player has 6 cards, the remaining cards become the stock.
The non-dealer removes the top card from the stock, and flips it face up. The suit of this card will determine the Trump suit for the round.
Starting Play
Play may then begin, with the non-dealing Player leading the first trick. To lead a trick, a Player simply places down whatever card they wish.
In Sixty-Six, Players are not obligated to follow suit even if they are able to. However, if a Player does not follow suit (playing the same suit as the leading card) or play a Trump card (playing a card of the Trump suit determined at the start of the round) then they are disqualified from taking the trick.
In order to win a trick, a Player must either play the highest ranking (Ace, King, Queen, Jack, 10, 9 in that order) card which follows suit, or they must play a Trump card. A Trump card always beats a non-Trump, even if it has a lower rank.
The winner of a trick must draw one card from the stock after their turn ends. This means a round of Sixty-Six can only have about 10 or so rounds in it before the stock is depleted.
If the stock becomes depleted, or a Player runs out of cards in their hand, and neither Player has 66 trick-points, the round ends and neither Player is rewarded a Game point. Instead, the winner of the next game will win the accumulated Game point or Game points from the previous round/s if it is more than one draw.
This process is repeated until one of the two Players has 7 or more Game points.
Rules for Sixty-Six
The 9 of Trumps may be swapped out for the upturned Trump card next to the stock, which determines the Trump suit of the game. This must be done at the start of your turn to lead, before you lead the trick.
Game rules are by default 7 Game Points win the game and 66 Trick-Points win the rounds within that game.
Trump cards always been non-Trump cards.
Players that win the trick must draw from the stock.
You may declare a close the moment you believe you have accumulated 66 Trick-points.
Scoring & Points
There are two types of points in Sixty-Six, Trick Points, and Game Points.
Trick points are determined by the trick-values of cards from tricks taken, as well as marriages that might be announced in the hand.
Game points are determined by various conditions between rounds, and the first Player to accumulate 7 Game points wins the overall game.
Below is a chart that explains the trick-point values for individual cards and marriages in Sixty-Six. Remember that the marriages are announced, and points are awarded upon the cards being shown to the other Players rather than being taken in tricks, and both the King and Queen must be the same suit.
| Card | Trick-Points |
| --- | --- |
| Trump Marriage | 40 |
| Non-Trump Marriage | 20 |
| Ace | 11 |
| Ten | 10 |
| King | 4 |
| Queen | 3 |
| Jack | 2 |
Additionally, the final trick in a round awards a bonus of 10 Trick-Points to the Player which took the trick.
Here we will explain the system of Game points scoring system in Sixty-Six:
Schneider
A Player that wins the round by achieving 66 trick-points wins 1 Game point. If a Player reaches 66 trick-points before their opponent reaches 33 trick-points, this is considered a "Schneider" and the winning Player gets 2 Game Points instead.
Schwarz
If a Player achieves 66 trick-points before the other player even wins a single trick, this is known as a "Schwarz" and the winning Player receives 3 Game Points.
A Player may also declare their victory at any time, and this is known as "closing" the closing. If a Player declares the game to be closed, and they have the requisite 66 trick-points, they win 1 Game point as normal.
If the Player which declares the game closed does not have 66 trick-points however, their opponent gets 2 Game points.
If the declaring Player closes the game before their opponent has even taken a single trick, but they do not have the requisite 66 points to win the game, their opponent is given 3 Game points.
Example Hand
The following is a possible starting hand that you might see in a game of Sixty-Six, with its modified deck:
9♦, K♦, 10♥, J♣, K♥, Q♦
This example hand is rather good, depending on the Trump suit. If Trump is ♦, then there is a marriage in this hand, worth 40 points. Once a single trick is taken, declare the marriage and be awarded with 40 trick-points for the round.
Strategy & Tips
These tips provided below offer some basic strategy insights for Sixty-Six:
The 9 of Trumps is an excellent card simply because of its ability to swap. As the lowest ranking card in the game, the 9 of Trumps will always be able to be traded for a card of higher value.
10s are worth more trick-points than Kings, Queens, and Jacks, but they do not take them in trick. This means that leading with a 10 is very risky, as it is relatively easy for your opponent to play a higher ranked card and take it for 10 points. Having 10s in your hand at the start is a disadvantage.
Do not try to take tricks as often as possible. Consider the score of the tricks that you are taking. Don't waste a King to take a 9, for example.
Trump cards always beat non-Trump cards, so even a 9 of Trumps can be used to win a reaction. However, if you are leading, do not play the 9 of Trumps, as it will be easy for your opponent to play a higher ranked Trump in reaction.
FAQs
How many cards are dealt in Sixty-Six?
At the start of the game, each of the two players are dealt 6 cards, three at a time. After these twelve cards are dealt, the thirteenth card is upturned and placed next to the stock to demonstrate the trump suit of the round.
What is a marriage in 66?
Marriages are a special game condition in 66. If a Player has a matching suit set of King and Queen in their hand, they may announce a marriage. Points are awarded immediately upon correctly announcing the marriage. The cards must be shown to the other Players in order to gain their points.
Where can you play 66 online?
An open-source programming website made specifically for card games, called freeboardgames.org, has a programmed version of Sixty-Six available for play. Although it does not have a matchmaking system, the game is designed to be played with a friend and offers a link to send someone, automatically creating a lobby for the two of you to play a round of Sixty-Six.
Also read