Introduction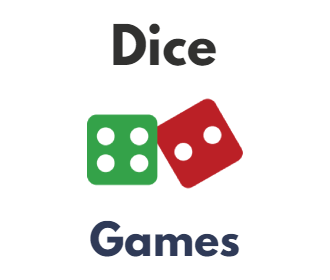 Dice games are an ancient part of human culture. Pre-historic stone-age civilizations have been shown to have used Dice, or objects that are used in the same way. The modern configuration of Dice that we see most commonly today, the six-sided cubic die marked with small indentations or "pips" dates back to the Roman Empire.
Stone Dice that look identical to our modern-day conception of a six-sided die have been found in numerous places in the former Roman Empire. Known as Tesserae, Historians believe that this particular configuration spread as a tool for gambling among the Legions and Roman Sailors.
Dice was an essential gambling tool during the Age of Sail and Piracy, when games like Liar's Dice became popular and spread all over the world via trade and colonialism. Cultures were inventing and sharing games of dice before written language.
What are the Most Popular Dice Games?
Let's have a closer look at the most popular dice games nowadays.
Yahtzee
One of the most popular tabletop games in the world! Fun for the whole family, Yahtzee is a combination Poker/Dice-rolling game. Players attempt to form melds made out of dice and take points for combined melds.
The familiar poker melds are used: Pairs, Three-Kinds, Straights, and Full Houses, etc. Get all 5 dice showing the same number, and you've got YAHTZEE!
Craps
The dice game of casinos everywhere. Players gamble on individual dice rolls, taking money and giving it up based entirely on the outcome of the two dice.
A large number of players can wager at the same time, ensuring there are crowds of people gathered around a single Craps table. A dramatic game of highs and lows, Craps is sure to be a crowd-pleaser.
Farkle is a jeopardy game, in which players rack up a score for each roll of the dice they make. Players are free to roll as many times as they want, but their score will not be finalized until they end their turn and officially tally together their score.
Watch out for the Farkle, if a Player rolls no scoring dice, they lose their whole running total and get a score of 0 for their turn!
Bunco is a team game, where at least twelve Players form teams of four, which take turns rolling the dice and alternate their turns among all the Players on their team.
Score is given for each dice roll that matches the current round, so round 1 would score all dice that come up on 1. If all three are the same number, its "Bunco!" and the team instantly wins the round.
Shut the Box is an interesting game, usually involving its own proprietary components. Shut the Box involves its own "Box" as it were, a small box with numbers on latches or hinges. The numbers are flipped up, making them visible and "Open."
Players roll their dice and try to form sums that match the numbers on the box. Matching a number "Shuts" it. A player's turn ends when they cannot shut any more numbers on their turn. Shut all of the numbers, and you Shut the Box, instantly winning the game!
Qwixx is a fun, proprietary German game that involves colored dice, and the Qwixx scoresheet. Players roll colored dice and mark matching numbers on the score sheet that match the color of the dice.
Players receive points for each successful mark on their scoresheet. At the end of the game, tally the score for each colored row, add them together, and the highest score wins!
Left Center Right is a game that can be played using its own special dice, or using normal dice and giving each number its own special "effect." In an official LCR game, Players roll 1, 2, or 3 dice depending on the number of tokens they have in front of them.
Three of the die's sides have special effects:
Left sends one token to the Player to your left.
Right sends one token to the Player to your right.
Center removes a token from play.
The last player with tokens in their possession wins it all!
Liar's Dice is a confidence game, in which Players attempt to bluff their way into winning. Players roll their dice under a cup, hiding the outcome from other Players. They look at their own dice, and then make a bid. They declare the number of dice at the table matching their chosen number.
Bids continue, growing to include more and more dice of the same number, until a Player declares liar.
A showdown occurs between the bidder and the challenger. If the bidder is right, the Challenger loses one of their dice. If the Bidder is wrong, they lose one of theirs. The last Player to have dice left under their cup wins the game.
Tenzi
Tenzi is a rapid-fire game of reflexes and quick pattern recognition. Players roll ten dice each simultaneously. After the first roll, Players are allowed to "hold", not rolling them again.
Players attempt to roll as fast as possible until all 10 of their dice match the same number. Once someone has all ten dice matching, shout "Tenzi!" and win the game!
Pig is a Jeopardy game, where Players roll and increase a running total until they lock in their score at the end of their turn. Similar to Farkle, except Players only roll a single dice.
By using a single die only, the statistically optimal strategy is radically different from Farkle. Roll a 1, and your running total is set to 0, and your turn is over. Winner is the first Player to finalize a score of 100 or more.
Honorable mentions
Sic Bo
Poker Dice
Beetle
Cho Han
Street Dice
Sevens
Categorizing Dice Games
There are several different styles. Just as there are matching card games, trick-taking card games, etc., there are numerous different styles of dice games as well. Here are a few of the major examples:
Jeopardy Games
Jeopardy Style Dice Games, as described by Reiner Knizia, involve tallying up a running total during your turn. Players are usually allowed to roll as many times as they wish, increasing their potential score. Their turns end when they choose to between rolls, or when they roll a specific number.
That number sets their score to 0, and ends their turn. Hence, Jeopardy. Players put their score in Jeopardy every time they roll, but also increase their chances of winning. Games like Pig and Farkle are Jeopardy games.
Elimination Games
Elimination Games are dice games where Players will lose one of their dice if they fail to achieve some kind of goal. Players roll a large number of dice, and slowly lose dice as they lose rounds.
Most normally, the last Player to still have dice at the end of the game is the winner. Liar's Dice is the best example of an Elimination Game
Gambling Dice Games
Gambling Games can involve a large number of dice games. Even those that are not normally used for gambling, such as Left Center Right, could be made into Gambling-type Games.
The genre, therefore, refers more specifically to dice games played in the casino, or games on the street played for money. Craps is the most popular game of this specific type.
Dice Games with a Board
Dice Games with a board usually involve using the dice as a mechanic for randomized movement across the board. These are most commonly called simply "Board Games" in the United States, as virtually every popular home board game is played using dice in this manner.
Parcheesi or Ludo, games integrated into American popular culture, are typical dice games with a board. Backgammon and Dice Chess can also be considered to be part of this category.
Scorekeeping Games
Scorekeeping Games are ones in which Players make note of their Dice Rolls with pen and paper. Players are most usually attempting to get specific scores, specific rolls, or even form melds out of the dice such as in Yahtzee. Qwixx would be another example of a Scorekeeping game, in which Players are restricted in their rolls after certain conditions are met, scores kept all the while.
Frequently Asked Questions
What is the easiest dice game?
Although the definitively easiest game would be subjective, something like Higher-Lower or Ship, Captain, and Crew are among the easiest dice games.
Any game in which Players simply roll their dice, and take score for it, would be the easiest. Such games involve no strategy and are instead good teaching tools for people new to dice games.
What is the most popular dice game in the world?
Craps is far and away the most popular dice game in the world. It is played on street corners and in casinos in just about every urban environment on the planet. Whether you are in Dubai or Dakota, you can find a game of Craps somewhere.
What is the oldest-known dice game?
The oldest known dice game is Senet, a game from Ancient Egypt. The dice used for Senet would hardly be thought of as dice today. Two two-sided dice, resembling small flat sticks, were thrown by the Player.
The value of the dice determined the Player's position on the board. The traditional dice board game as we know it started over 5,000 years ago, with Senet.
Which dice games are best suited for adults?
Dice games are a vast and diverse category of games. As such, there are some games that are quite complex and might not be good for a young child or a brand-new dice-game player.
For adults and those more experienced in Table Top gaming in general, games like Qwixx and Farkle are a bit more complex but are a more rewarding gaming experience.
Which dice games are best for family/children?
When teaching young children the basic rules of dice games, there are a few standout examples. Ship, Captain, and Crew is a fun game with a pirate theme, perfect for teaching Children about dice and how to throw them properly.
Left, Center, Right, and Pig also provide very basic gaming experiences that anybody can enjoy.
You May Also Like