Intro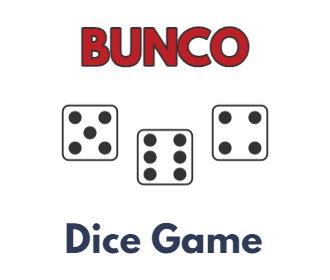 Bunco is a simple dice-rolling game with an interesting history. It originated as a confidence game, a form of scam.
Players would wager a small amount of money for the first game, and win. In the second game, when the stakes and the Player's confidence have been raised, regular dice are swapped out for Bunco dice, ensuring the scammer's victory.
The game transformed as it came to the United States, gradually becoming a genuine activity. Today, the game is particularly popular among housewives. There even exist Bunco Parties, where groups gather together to play, gossip, and enjoy refreshments.
How to Play Bunco?
Aside from the basic materials one might need to play the game, Bunco is only properly played with at least 12 people, forming four teams of three.
Although the teams could theoretically be disposed of, the game still requires a minimum of 4 Players to properly play it.
This is why Bunco parties are so popular, due to the large number of participants needed to fully enjoy this game.
Materials Needed
Aside from the large number of Players, one only needs:
A set of three 6-sided Dice.
A pen and paper to keep track of Score
Teams
Players begin by organizing their team, such that each team has a "batting order." Each Player on each team will have their own turn order within their team, and teams will take turns rolling the dice according to their own internal order.
Dice Rolling Progression
So, imagine that the dice have been rolled 6 times in total since the start of the game. Assuming Player 1 of Team 1 rolled first, then it is now Player 2 of Team 2's turn.
Players roll in an attempt to gain specific dice that yield points. These dice are known as "Scoring Dice." Players roll on their turn in an attempt to gain enough scoring dice to reach 21 Points.
Scoring Dice and Point System
There are six total rounds in a game of Bunco, and this number cannot be altered. The number of rounds cannot be changed as the round number affects the legally scoring dice.
Once Players have taken their roll, Players are awarded points for their scoring dice based on the round number.
Players receive 1 point for each dice that matches the round number. For example, it is round three, and Player 1 rolls two 3s on their dice, then Player 1 is given 2 points.
Players will also receive 5 points if they roll a three-of-a-kind that does not match the round number. For example, if it was round 4, and someone rolled three 6s. That would yield 5 points.
If Players manage to roll a three-of-a-kind that matches the round number, such as three 2s on round 2, then that Player has won a "Bunco" and instantly wins the round for 21 Points.
Players may roll again if they get at least a single scoring dice from their roll. Rules vary here.
Some versions of the game have the next Player in the team's turn order take the additional roll, so that if Player 2 rolled scoring Dice for Team 1s turn, it would then be Player 3's turn to roll for Team 1.
Others make it such that the person who took the first roll will take any additional rolls for their team on that turn.
Round Conclusion and Team Turns
A round of Bunco ends when a team reaches 21 points or more. All Buncos instantly end the round due to their value of 21 points.
The turn order does not change, even when a round has ended. This ensures that every Player is given an equal chance to play the game.
Game Outcome and Tiebreaker
The team that wins the most rounds wins the game. It is customary to play through all six rounds, even if one team has taken four rounds and no other team can win or tie.
In the case of a tie, Players should refer to their score charts.
If two teams won the same amount of rounds, the team that scored more points overall will be considered the winner.
If there is somehow a tie for their points as well, then a final game of Bunco will be played as though it is round 1, with 1s making up the scoring dice.
The game will only be between tying teams, with all others eliminated.
Scoring
Players' scoring dice in Bunco is dependent upon the round number at a given time. This means that an individual die that matches the round number is worth one point.
For example, throwing a 2 in the second round will give you 1 point.
Besides this, there are two special cases:
Mini-Buncos – three dice of the same kind that do not match the round number (5 points).
Buncos – three dice of the same kind that DO match the round number (21 points).
Below you can see an imaginary scenario for each round:
| Round | Dice Throw | Result | Explanation |
| --- | --- | --- | --- |
| 1 | 1 – 4 – 6 | 1 Point | You threw a 1 in the first round |
| 2 | 5 – 6 – 2 | 1 Point | You threw a 2 in the second round |
| 3 | 3 – 3 – 3 | 21 Points | Bunco! All the numbers match |
| 4 | 2 – 4 – 6 | 1 Points | You threw a 4 in the fourth round |
| 5 | 6 – 6 – 6 | 5 Points | Mini-Bunco! Three-Kind not matching the round |
| 6 | 1 – 5 – 3 | 0 Points | Oops. No matches. |
The game itself is scored by the number of rounds won. Bunco is a matchplay game involving multiple rounds, where the total "match" is not won until one team has won more rounds than their opponents.
Once a team has taken 4 rounds, they are guaranteed to win.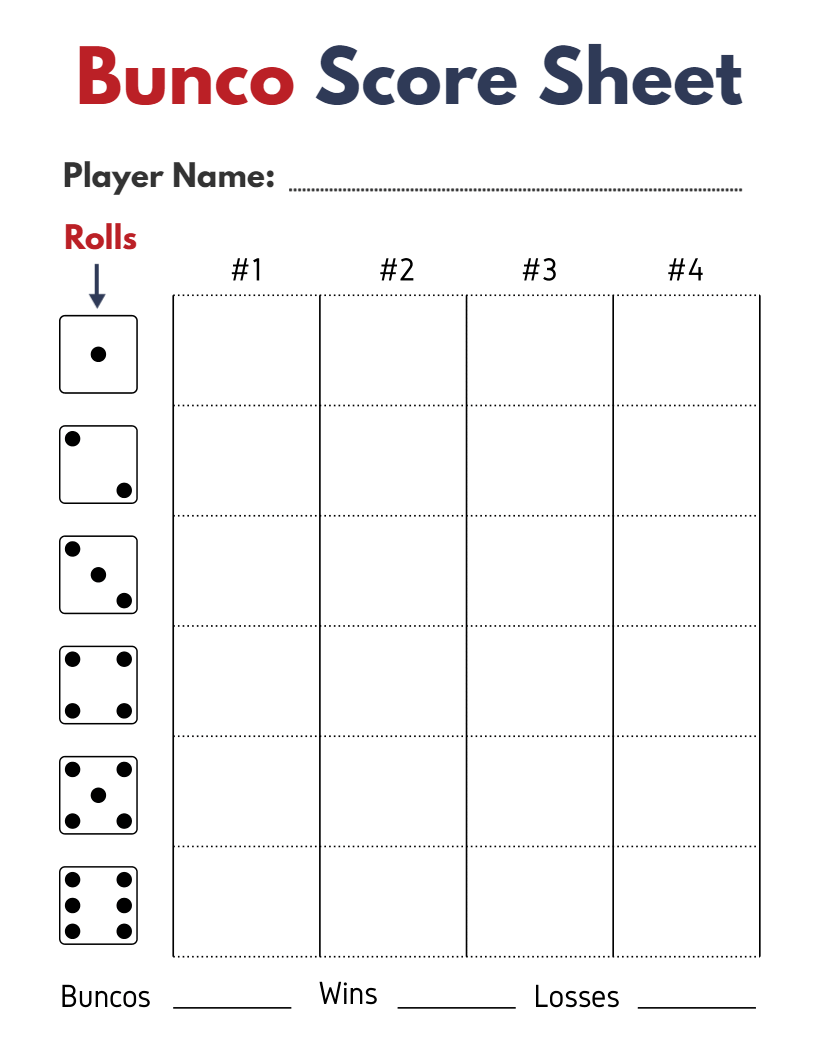 Bunco Rules Summary
A quick summary of the rules can be seen below:
Players should form four separate teams of three (3) Players. The game can be played without teams, but they are recommended for the full experience.
Players compete over six rounds to try and be the first team to achieve 21 points in each round. The first team to 21 wins the round. The team with the most rounds won is the overall winner.
In the case of a tie, Players should compare their overall in-round scores. A team that has 11 points, and then rolls a Bunco, has a total of 32 points for that round.
Players take turns as the turn order goes from team to team. Player 1 rolls for team 1, Player 4 rolls for Team 2, the turn order goes around to each team, and once it is Team 1's turn again, it is Player 2's turn to roll for Team 1.
Example Scenario
Suppose that you are Playing a game of Bunco, on round 1, with 12 total Players grouped up into four teams of three.
Suppose that you are 2nd in your team's turn order, and each team has already rolled once.
Your team, Team 1, has 1 point.
Team 2 has 5 points.
Team 3 has 4 points.
Team 4 has 0 points.
You roll your three dice and get:
1 – 4 – 6
That 1 is a scoring die, as it is round 1. As such, you have garnered another point for your team. Depending on the version you are playing, you may be forced to give up your dice to the next Player on your team's batting order.
Whether you take the roll, or your teammate, suppose the next roll is this:
1 – 1 – 1
Bunco! Your team immediately wins round 1, with a final listed score of 23, 2 points from your previous rolls, and 21 from the Bunco. Score needs to be kept in case there is a tie in the number of rounds won.
Strategy and Tips
Bunco is largely a game of chance. It is intended to be gaming as socialization. Hence the large number of Players required, and the customary parties and hosting elements surrounding the game.
It is a game played for fun or very small gambling stakes, among a group of friends and associates. As such, there is not much actual strategy that can be employed when playing. Players simply roll their dice, and tally up a score based on those dice rolls.
You can check this discussion if you are interested in the probabilities of the game.
FAQs
How many people can play?
Bunco is best played with 12 people. However, the minimum number of players is 4 and the maximum number of people is 16.
How much time does a game of Bunco take?
This depends on a lot of factors such as the number of players, the number of rounds, the time spent socializing, etc. However, a save range is from 20 minutes to around 60 minutes.
Is Bunco similar to Yahtzee?
They share some mechanics but Bunco is more of a quick, social dice game compared to the more strategic Yahtzee. The team and group aspect also sets Bunco apart. Yahtzee can already be played by one or two players.
What is a "Ghost" in Bunco?
In Bunco, if a player is absent, a "ghost" player can be used as a substitute. The ghost just keeps the absent player's score and doesn't collect points. This allows the game to be played with an even number of players.
A remarkable fact about the name
The word Bunco has been genericized in American Slang, referring to any scam or confidence game. The word gave rise to the words Bunk, and Bunkum, which further developed into the more popular phrase "Debunked" in which something is proven to be false.