Introduction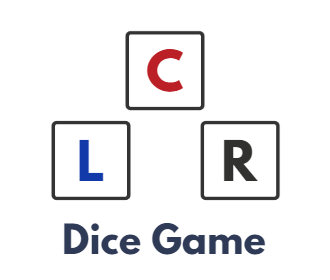 Left Center Right is a propriety dice game originally developed by George and Company LLC. However, due to a lack of copyright and trademark protection, the game has also been developed by other companies. George and Company only registered the game under the name "LCR".
As a proprietary game, that means you will need to purchase a special dice set. These dice sets are sold under different name variations.
How to Play Left Center Right?
LCR is best played with at least three people, though more is recommended.
Materials Needed
All Players need to play is an LCR kit, which is most usually a blue tin that contains a large number of dice, and a large number of "chips". Chips are small circular tokens or coins that Players will use during the game.
The game uses special six-sided dice. Each LCR dice is the same, such that three of the sides have a single dot, one has an L, one has a C, and one has an R.
LCR can also be played using normal dice, and any token as a substitute for the Chips. When Playing with normal dice, set each side to match an LCR Dice.
So, 1-3 would each be "Dots."
4 would be "Left."
5 would be "Center."
And 6 would be "Right."
The below illustration will make it clear: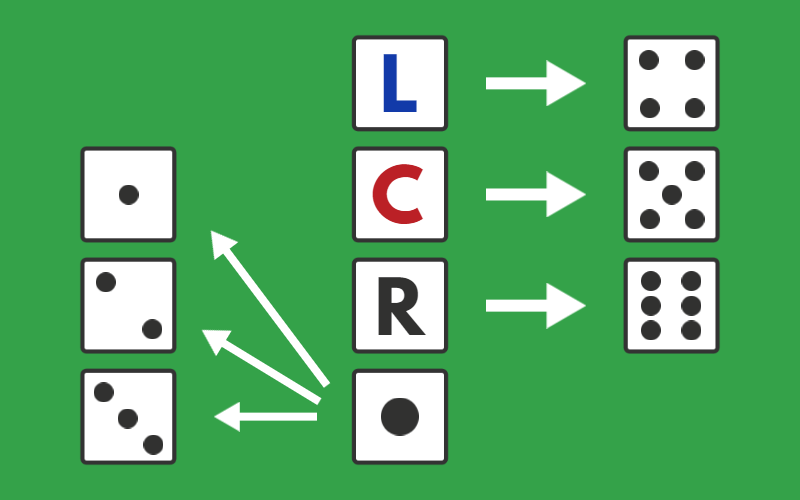 Start of Game
At the start of the game, each Player will be given three of the chips.
Players can roll a standard die to determine turn order, or they can find any other means of their choosing. Regardless of the method used, the first Player will take the first turn of the game. All subsequent turns will be taken clockwise (To the Left).
Gameplay
Players will roll exactly one die for each chip that is in their possession, up to three dice. For example, a Player with 0 Chips will not roll, while a Player with 4 chips can only roll three dice.
Depending on the Player's roll, certain things may happen to their chips:
| Roll | Effect |
| --- | --- |
| R (Right) | Pass an equal number of chips to the Player to the Right. |
| L (Left) | Pass an equal number of chips to the Player to the Left. |
| C (Center) | Place an equal number of chips into the Center of the table. Chips in the center are out of play until the end of the game. |
| Dot | No effect, the player takes no action. |
So, imagine that you have three chips, and roll three dice that come up:
R – Dot – Dot
So, you must pass only a single chip to the Player on your right, and then end your turn.
Chips and Winning the Game
Turns will continue clockwise, with Players exchanging chips or placing them into the center as the dice demand.
Just because you have no chips left, that does not mean you are out of the game. Instead, Players with no chips simply do not roll and skip their turn. However, it is still possible to receive chips from other Players on their turn.
Chips are only lost when they are placed into the center of the table, where no Player can claim them until the end of the game.
Gameplay continues until there is only a single Player left with chips. That Player wins the game.
Scoring
The game of LCR is a "Winner-Take-All" style game, where there is only a single winner at the end of each game. Players could play multiple rounds, if they wished.
If Playing multiple games, then Players should keep track of the number of games won, with the Player winning the most games being declared the overall winner.
Players could also play a "Best of" series of games. When Playing a "Best of" such as "Best of Three", the first Player to win the majority of three games (2) would be declared the overall winner.
LCR Rules Summary
In short, the rules can be explained as follows:
Players must roll as many dice as they have chip, up to three. 1 chip equals 1 die. 2 chips will equal 2 dice. 3 dice are rolled when a Player has 3 or more chips, and Players never roll 4 dice or more.
Players that have 0 chips are not removed from the game, but simply skip their turn.
The game continues until one Player remains with chips in their possession.
Chips that are placed into the center cannot be reclaimed during that round, and are effectively removed from play.
Playing Example
Imagine that you are taking the first turn in a game of LCR with two friends.
Your first roll:
L – C – R
Oh no! You've lost all your chips in the first hand! One to your friend to the left, one to your friend to the right, and one right into the center of the table. This isn't quite as bad as it looks, though.
Your turn is over, but your friend's turn might send some chips your way:
R – R – C
Very good! Even though you lost all three of your chips on your first turn, you just got two of them back.
The next Player takes their turn:
Dot – Dot – L
Another chip your way! Even though you lost all of your chips on your first turn, you've had three chips returned to you by the other Players.
This is the nature of Left Center Right. Chips will constantly shift around the table, until eventually one Player will be left with all of the remaining in-play Chips.
Strategy and Tips
LCR is almost entirely a game of chance. There is no real choice that the Players can make at any point in the game to alter the outcome without cheating.
It is a luck-based game that can be played as a time-waster, or as a way to teach Players unfamiliar with dice games basic concepts of probability, as well as the use of tokens/chips to represent some kind of score.
Having 0 Chips
As demonstrated in the example scenario, having zero chips does not mean that you will lose. During their turn, Players can only lose chips, or keep the ones that they have. They cannot gain any chips during their actual turn.
This means that, in a way, having 0 chips early on in the game is actually an advantage, not a disadvantage. You can only gain chips, and cannot lose any. Your opponents, meanwhile, have the opposite situation. They can only lose chips, and they cannot gain any.