Related Games
Information About Freecell Online
This classic and addictive online Freecell game is available to play for free right in your browser. No downloads or signups are required.
Freecell Solitaire is a beloved solo card game that challenges your skills in strategy and planning ahead. With our intuitive interface and undo button, it will be an enjoyable experience.
This is an HTML5 game and works on any operating system, – Windows, MacOS, Linux, Android, iOS, etc. Don't hesitate to report any problems so we can fix and optimize them promptly.
Quick Instructions
1. To begin the game, select the start or play icon.
2. The columns of cards displayed are referred to as your "tableau".
3. Shuffle the cards in the tableau to construct sequences in descending order while alternating color. For instance, you may transfer a black 10 onto a red Jack.
4. Send cards to the foundation stacks going up in number and by suit. As an example, you could move an A♠ to the foundation pile, then add the 2♠, followed by the 3♠, etc.
5. Make use of the free cells to assist with shuffling cards around the tableau. If you have a single open free cell, two cards can be moved.
6. If you want to revert to your previous move, press the "Undo" button.
Learn more about how to play Freecell with cards here.
Options
There is only one game mode, so just press the in-game play button once you are on the starting screen.
When clicking that button, the game will open fullscreen automatically. If you would like to exit fullscreen, just press the Escape button on your keyboard or the back button on your mobile device.
Once you are in the game you will see a menu button in the top left. This allows you to do the following things:
Start a completely new game.
Restart your current game with the same initial cards.
A sound switcher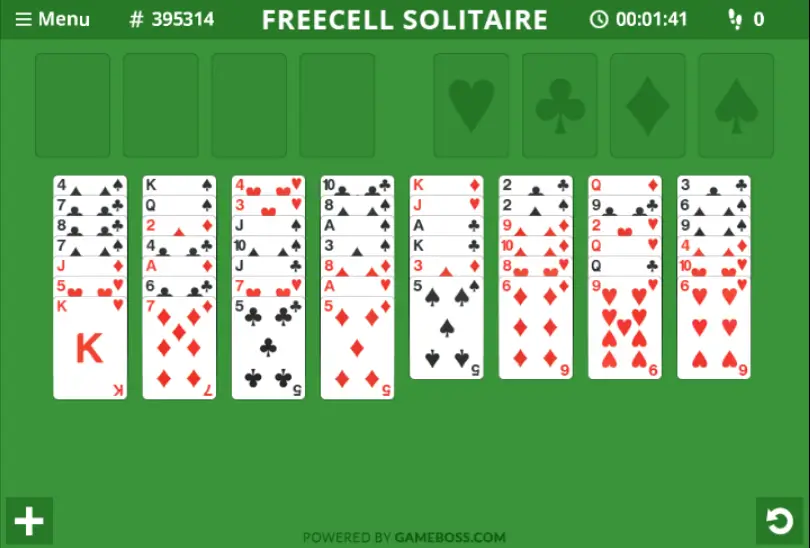 Other things you can see in the top section are:
A game number, which you can manually change.
A time tracker.
A move counter, recording how many moves you have already made.
At the bottom of the game, there are two more options. These are the plus sign button and the rewind button.
The plus sign is just another button to start a new game and the rewind icon is actually a button to undo your last move. This is helpful when you think you made a mistake and would like to rearrange the cards to how they were before.
Overall, we think this a great no-fuss and free Freecell Solitaire game.