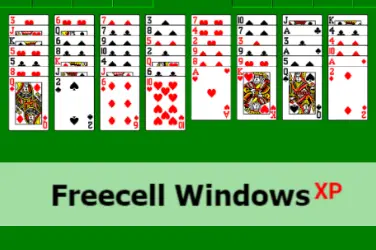 Genre
Solitaire
Release date
October 25, 2001
Developer
Microsoft Corporation
Platforms
Windows
Technology
C++, MFC (Microsoft Foundation Class)
Related Games
Information About Freecell Windows XP
This game came pre-installed with Windows XP during its initial release in 2001. Over the years many people have obviously moved on to newer computers and newer versions of Windows.
This game is ideal for those who really enjoyed the older versions of Freecell, without having to download or install anything.
Options
After the Microsoft Windows XP start-up screen, you will be brought directly to the game.
Here you have the familiar top bar with multiple options and information. These are the following:
New: option to start a new game. your progress will be lost and your game number will change.
Select: select a game number from 1 to 1000000.
Restart: restart the current game with the same cards.
Statistics: here you can see how many games you won or lost in your current session and overall. It also shows a win percentage.
Undo: this button allows you to undo your last move.
Cards Left: the number of cards remaining.
Game Number
Instructions
Press "Play" to start a new game.
The goal is to stack cards in ascending order by suit from Ace to King in the foundation piles.
Move cards between tableau piles, free cells, and foundations. Tableau cards must be one rank lower and a different color than the top card. Free cells can hold one card. Move sequences to empty tableau piles.
Continue moving cards until all are stacked in the foundations.
You win when all cards are stacked in the foundations.
For a more in-depth guide that also explains how to play with physical playing cards, see our Freecell rules page.
Technical
This game was developed by the Microsoft Corporation using C++ and the Microsoft Foundation Class library. You can play this on all your devices and browsers.