Related Games
Information About Hearts Online
Experience the timeless trick-taking card game Hearts for free online. In this game, you try to take as few tricks as you can, sidestepping points.
Our online Hearts game provides easy, instant gameplay with no downloads or signups needed. It is designed for 4 players.
Released in 2022 by Zygomatic, this free version of the classic game allows you to enjoy Hearts from any device and operating system. Relive the social fun of the original card game from the comfort of your home or while on the go.
Quick Instructions
After reviewing their hand, each player passes 3 cards facedown to another player based on rotation:
Left
Right
Across
No passing
This rotation repeats until the game ends.
Playing Tricks
The player with the 2♣ leads that card to start the first trick. Players must follow suit if possible. If a player can't follow suit, any other card can be played except on the first trick, hearts, and the Q♠ are prohibited.
The highest card in the led suit wins the trick. The trick winner collects the cards and leads the next trick.
Hearts can't be led until broken by a heart or the Queen of Spades being played. The Q♠ can be led anytime.
Scoring
At the end, each heart taken counts as 1 point. The queen of spades is 13 points. If a player takes all hearts and the Q♠, they can subtract 26 points from their score or add 26 to all others.
The first player to 100 points loses and the lowest final score wins.
Check out our more detailed rules for Hearts here.
Options
First, let's go over the key selections on the opening display:
Play: Starts the game.
Help: Gives a brief tutorial on gameplay.
High Scores: Views top scores from other gamers and yourself.
Languages: At the bottom left, choose your preferred tongue.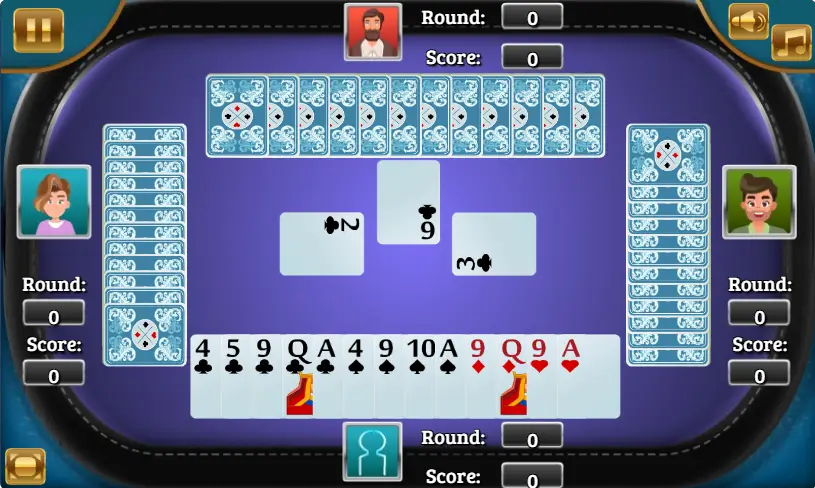 Once you begin playing and enter the game screen, there are additional choices. From left to right:
Pause Icon: Halts gameplay and opens settings
Fullscreen Icon: Toggles fullscreen mode (you can also use the Cool Old Games built-in feature for this).
Sound On/Off Toggle: Controls sound effects.
Music On/Off Button: Manages background music (in case it annoys you or you prefer to listen to something else).
You May Also Like