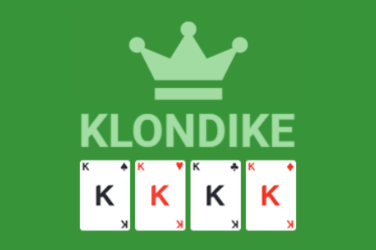 Related Games
Information About Playing Klondike Online
The original solitaire game, Klondike for free in your browser. It was released in 1990 and has turned out to become one of the most popular solitaire variations in the world. The game originally came installed on Windows computers, but nowadays is available online all over the web.
Some online versions require you to create an account and give some personal information while others require you to download or install the game. On Cool Old Games there is no need to download or create an account. Just click the "Play" button and enjoy!
Instructions
This online Klondike version is played with one standard 52-card deck.
The goal is to remove all cards from the table by building four foundation stacks.
The foundations must be built up in sequence from Ace to King by suit.
Cards on the table can be sorted by assembling descending sequences of alternating colors.
When a column is cleared, you can fill the empty spot with a King.
When stuck, draw from the stock pile. Play the top stock card if you can, otherwise place it on the waste pile.
Turn over the waste pile and continue when the stock is empty.
Use the Undo button in case you get stuck.
The game is won when all cards are played to the foundations.
For a more in-depth guide that also explains how to play with physical playing cards, see our Klondike rules page.
Options
There are two different game modes available to you on the starting screen:
Draw 1 Card
Draw 3 Cards (harder)
What does it mean? It refers to either one or three cards being dealt from the stock at the same time.
When pressing either one of these options, the game will open fullscreen. If playing on Windows and if you would like to exit fullscreen, press the Esc key (Escape).
In-game options
First of all, there is the Menu, which has multiple options:
New Game: brings you back to the main menu to either choose the Draw 1 or Draw 3 version of the game.
Restart Game: this simply restarts the current game.
Sound On/Off: no explanation needed.
Then there is a simple header section where the game keeps track of the time, your current score, and your best score.
Lastly, there are the "+" icons and the rewind icon in the bottom corners. The "+" sign is just another button for starting a new game.
The rewind but is important as it is actually an "Undo" button, which means that you can undo your last move with this. This is of course very useful in case you get stuck. You can use it as many times as you like.
Overall we think this is simple a solid way of enjoying Klondike without any unnecessary bells and whistles.
If you would like to try other solitaire versions, we also offer Online Spider Solitaire and Online Freecell here on Cool Old Games.
Technical
This game is developed by GameBoss and built with HTML5 technology. It works on any operating system, including Windows, MacOS, Linux, Android, iOS, etc. No heavy system requirements, in general, it should run just fine. However, feel free to report any issues you might encounter when playing.