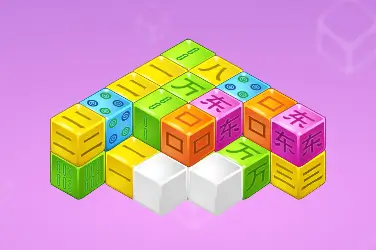 Related Games
Information about Mahjong Cubes
If you are looking for something more playful with lots of colors, this is your game! In Mahjong Cubes you simply try to remove cubes by matching two cubes of the same color and pattern. Be aware that you are only allowed to match free cubes. Free are those that have no other cubes on top of them.
The game was created with the newest technologies by Zygomatic. We love how it looks and feels. The 25 levels also make it a fun challenge.
Options
During the game, there is a left-hand menu and a right-hand menu. We will explain what the options are for both:
Left side
Level: you advance through 25 difficulty levels in this game. This simply shows the level you are currently at.
Score: your current score as a result of matching cubes.
Time: this is the time left for the current level. Try your best to stay within the time limit!
Full screen: opens the game across the whole screen.
Right side
Pause: a pause menu with several options, one is to go back to the main screen.
Shuffle: change the current layout. Be aware that you lose points by doing this!
Hint: get a hint in case you are stuck. You lose 300 points by using this option.
Sound: turn on or off the sound.
Music: turn on or off the music.