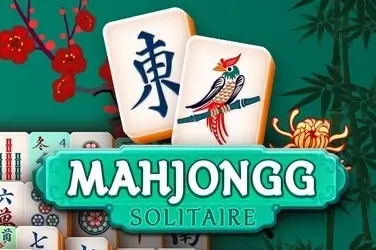 Genre
Solitaire Mahjong
Release date
October, 2016
Developer
Arkadium
Platforms
Windows, MacOS, Android, iOS
Technology
HTML5
Related Games
Information About Mahjongg Solitaire
Mahjong Solitaire is a game that combines elements of Mahjong and Solitaire games. Although it may appear overwhelming initially, the game boils down to a simple matching puzzle.
With CoolOldGames.com you are able to enjoy Mahjongg Solitaire for free in your browser. There is no need to download it and we also offer a full screen mode.
Quick Instructions
The objective of the game is to eliminate all tiles from the board. This is accomplished by pairing up open matching tiles that are free to move sideways.
Tiles need to be free from the sides in order to be matchable.
Season and Flower tiles can be matched with everything.
| Tile Type | Points |
| --- | --- |
| Season | 14 |
| Flower | 12 |
| Dragon | 10 |
| Wind | 8 |
| Bamboo | 6 |
| Circle | 4 |
| Wan | 2 |
The final score is calculated by multiplying your points by the number of remaining tiles in the layout. You will get multiplier points if you make multiple matches of the same suits in a row.
Game Options
At the top of the screen, you have quite a few options. Let's have a look at them:
Open Matches: number of available matches on the current layout.
Time Counter: you have 10 minutes.
Score Counter (flower sign): keeps track of your total score for the current game.
Tile Counter: keeps track of how many tiles are left.
Help Button: brings up a screen with some rules.
On the right side, there is also a settings menu. This menu has the following options:
Sound on/off
Back to home screen
Last but not least there is a 'Hint' button at the bottom of the screen. This is obviously very useful when you are completely stuck.