Related Card Games
Information About Spades Online
Want to play the classic card game Spades for free online? Cool Old Games offers a quick, easy way to enjoy a simple version of this popular trick-taking game.
Zero fees: Simply open our site and play Spades 100% free. No payments are needed to enjoy the full game.
Direct access: No downloads or apps are required, just play instantly in your browser.
Intuitive design: Our user-friendly interface lets you start playing Spades right away. Hassle-free setup for fast fun.
Quick Instructions
This version of the game is played with 4 players.
Players bid on the number of tricks they think their partnership can take. Bids by partners are combined.
Spades are trump cards that beat other suits if played.
Winning tricks is about playing the highest card of the suit led or the highest trump if any are played.
You must follow the led suit if able. Otherwise, any card can be played.
Spades cannot be led until the suit has been played previously to trump another trick.
For more detailed instructions you can read our in-depth rules guide for Spades.
Options
The home screen has key options to start the game (Play), learn how to play (Help), check high scores from other players and yourself, and select your language preference.
As soon as the game starts you need to select the number of tricks you are expecting to take (from 0 to 13).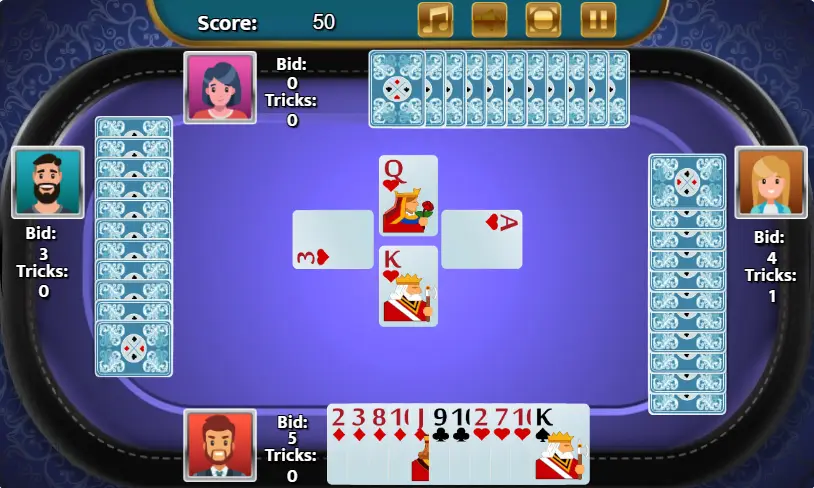 As you can see there are multiple things being tracked. These are your score, and the number of bids and tricks taken by each player.
You also have some settings available to you during the game. These are a music switch, a general sound switch, a fullscreen button (in addition to the Cool Old Games one), and a pause button.
You May Also Like