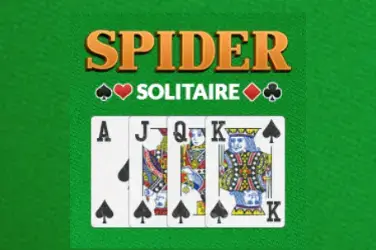 Related Games
Information About Playing Spider Solitaire Online
Spider Solitaire is a game that together with Klondike and Freecell has become extremely popular online. The name comes from the 8 foundations that look like the legs of a spider.
Most people will remember this game from their Windows computer, however, the game actually was invented in the 1940s. In those times it was played with real playing cards.
Online Spider Solitaire makes it possible to play for free from both your desktop and mobile device. Another advantage of playing on Cool Old Games is that you can simply play in your browser, without downloading any programs.
What we like about the game playable here specifically are the large cards and "old school" feel.
Quick Instructions
Two decks are used for a total of 104 cards
Order cards in descending runs within suits from King to Ace.
Move cards between columns following suit and rank rules. Sequences can be moved together.
If stuck, draw a new card from the stockpile. Only draw when you have no moves left.
Remove card runs once completed.
Win by emptying all cards from the tableau. If stuck, restart the game or undo your last move.
Want to learn more? Read our in-depth Spider Solitaire rules.
Point counter
The counter stars with 500 points. And the game is won after clearing all 8 sequences, worth 800 points.
Losing 1 point for the following:
Each card moved.
Using the "Undo" button
Drawing from the stock
You earn points by clearing full sequences, earning you 100 points each.
points earned + remaining points after all moves = final score
Option
On the starting screen, you can choose between three different game modes:
1 Suit: play with only one suit, usually Spades (♠) – Easy
2 Suits: usually Spades (♠) and Hearts (♥) – Medium Hard
4 Suits: played with all four suits – Hardest
Once you are in the game, multiple buttons and pieces of information are available to you. Let's start with the information in the dark red bar at the top:
Time counter: keeps track of how long you are taking.
Move counter: keeps track of how many moves you have made.
Point counter: keeps track of your points.
High score: your best result.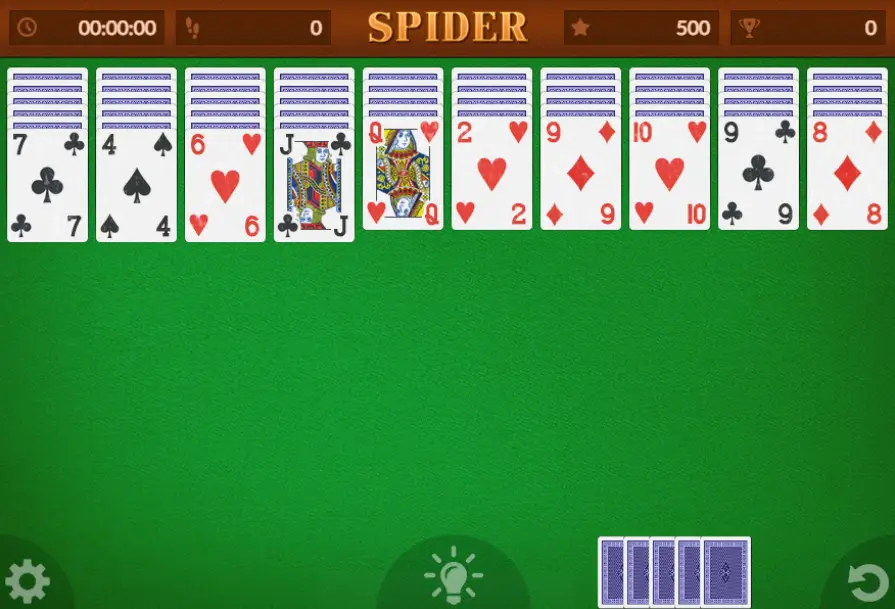 At the bottom left of the screen, you will find the settings menu. This menu has multiple options:
Resume: simply continue your game.
New Game: start a completely new game, either 1, 2, or 3 suits.
Reset this game: start the same game over again.
Sound on/off
Statistics: see your number of played games, win/loss ratio, top score, and your best time.
The other two buttons at the bottom are very useful. One is the large lightbulb icon, when you click this the game will give you a hint. The other one is the "Undo" button, which will let you undo your last move.
Technical
This game uses HTML5 technology and is playable on all operating systems such as Windows, MacOS, Android, and iOS. The browser also does not matter allowing you to play this free Spider Solitaire game on-the-go.