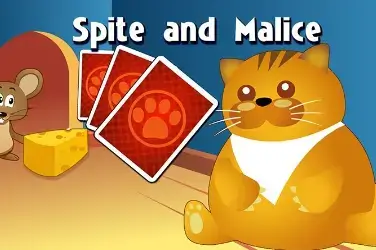 Related Card Games
Information about Spite and Malice Online
The fun competitive patience game Spite and Malice, but in a digital form! Here you can play the game completely free without downloading. This is an HTML5 game developed by Zygomatic that supports all modern browsers and devices.
The object of the game is to be the first player to transfer all the cards from your personal 'play pile' on the left to the collective center piles.
To begin, slap down an Ace to start the first center pile.
Moving clockwise, build up each center pile by placing the next card in ascending order up to the Queen. You can grab a card from your hand, your play pile, or peek at the tops of the discard piles.
When it's your turn, you can also transfer a card from your hand onto one of the discard piles, ending your turn.
The king is wild – he can stand in for any other card you please. So use him wisely.
The first person to clear their play pile and build the center piles up wins.
Check our Spite and Malice rules guide if you still need to learn how to play the game.
Game Options
After starting the game you will first see the main menu. It will give you the option to "Play" and begin the game, play an untimed game, get some instructions, and view high scores.
Once you are in the game you can see some number on the left side. From top to bottom, these are:
Your current score
The time you have left (you start with 8 minutes)
The current level you are playing (from 1 to 3)
Furthermore, there are common buttons such as a pause button, a sound switcher, and a full screen button.