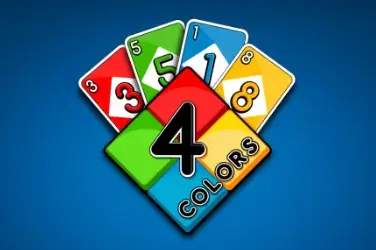 Related Card Games
Information about UNO Online
Genre
Card Games
Release date
6 March, 2017
Developer
Code This Lab srl
Platforms
Windows, MacOS, Android, iOS
Technology
HTML5
Four Colors is a fun card game based on the well-known UNO. At Cool Old Games you can enjoy the game online, completely free of charge.
These are the advantages:
No registration or subscription needed
No downloading or installing
Play on any device and any browser
Play in full screen mode
Quick Instructions
Staying true to the original rules and deck composition of 108 cards, Four Colors brings the fun and competitive spirit of UNO into the digital world.
Each player is dealt 7 cards to start and the rest are placed face-down in a draw pile. The top card of the draw pile is flipped to begin the discard pile.
On your turn, you must play a card that matches the top card on the discard pile either by color, number, or symbol.
If you don't have a match, you must draw a card from the draw pile until you get a playable card.
Play continues clockwise until one player has no cards left, then they win.
You must press the 4 colors "1" button in the middle when you have only one card left or you'll be penalized with 2 extra cards.
Some cards have a special effect. Each card also has a point value that is used for scoring at the end of the game.
You can see this below:
| Card Type | Effect | Point Value |
| --- | --- | --- |
| Numbered cards | None | Face value |
| Draw Two | Next player has to draw 2 cards from the pile | 20 |
| Skip | Next player has to skip their turn | 20 |
| Reverse | Playing order goes the other way around | 20 |
| Wild | Can always be played and allows you to pick a color | 50 |
| Wild Draw Four | Can always be played and the next player draws 4 cards | 50 |
We also have an in-depth UNO rules guide, you will also find variations there.
Options
The in-game options are straightforward. You simply select the number of players you would like to play with. Either two, three, or four.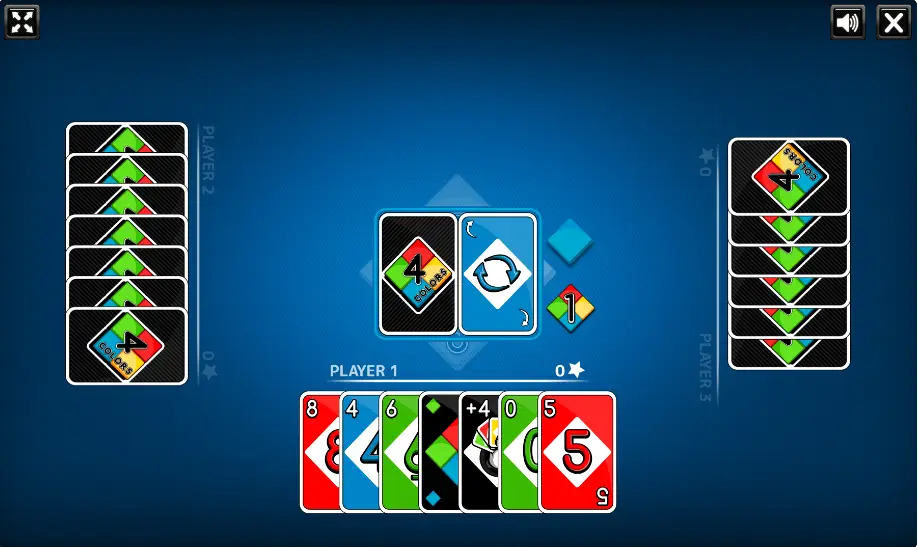 There are two settings buttons available to you during the whole game, a sound switcher and a "close" or "back to menu" button.
At the end of the game, you will see the final score of all players. At this point, you can either go back to the home menu or play another round.
You May Also Like