Definition
Classic Mahjong is a traditional tile game originating from China and has found success as a fun and engaging pastime. Chinese Mahjong forms the core of a competitive 2-4 player game, and with slight differences in rules, has found a following across the globe.
The beautiful tiles in this game also have a place in puzzle games, much like iconic playing cards being used in Solitaire. This short guide will teach you the basics of competitive Classic and Chinese Mahjong.
How to Play Mahjong for Beginners?
What do you need?
All you need to play this game is a Mahjong set consisting of 136 tiles, a pair of dice, and a Mahjong Table. In general, it is a 4-player game, though different player counts are possible. This guide focuses on the 4-player mode, though for lower player counts, the same steps apply.
The Mahjong Tiles
Traditional Mahjong tiles are split across multiple types, and depending on the set type, may include certain optional tiles. The tiles and their original Chinese names are shown below:
Traditional Mahjong Tiles

| Tile Type | Suit | Tile Count |
| --- | --- | --- |
| Suited | Dots (筒子) | 36 |
| Suited | Bamboo (索子) | 36 |
| Suited | Characters (萬子) | 36 |
| Honor | Winds (風牌) | 16 |
| Honor | Dragons (箭牌) | 12 |
| Optional | Flowers (花牌) | 4 |
| Optional | Seasons (季牌) | 4 |
Suited tiles have a corresponding rank and suit, and are named with the format of rank followed by suit. For example, the '5 Character' tile is from the Characters suit and has a rank of 5. It should be noted that the '1 Bamboo' tile is illustrated as a sparrow.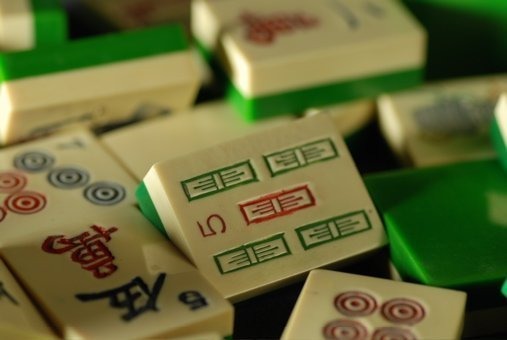 The Characters suit uses traditional Chinese characters, with the top showing the rank as a Chinese numeral, and the bottom tile showing the 萬 or 万 character, which is read as 'wan'. The numerals and the translation are shown below:
Chinese Characters and Numerals

| Chinese Numeral | Number |
| --- | --- |
| 一 | 1 |
| 二 | 2 |
| 三 | 3 |
| 四 | 4 |
| 五 or 伍 | 5 |
| 六 | 6 |
| 七 | 7 |
| 八 | 8 |
| 九 | 9 |
The Wind and Dragon tiles do not have ranks, and consist of the following:
Wind and Dragon Tiles

| Tile Type | Tile |
| --- | --- |
| Wind tile | 東 (East) |
| Wind tile | 南 (South) |
| Wind tile | 西 (West) |
| Wind tile | 北 (North) |
| Dragon Tiles | 中 (Red Center) |
| Dragon Tiles | 發 (Green Wealth) |
| Dragon Tiles | 板 (Blank/Blue Frame) |
The Flower and Season tiles are optional, and they do not have duplicates, meaning there are only 8 throughout the entire set. In certain variations of classic Mahjong, these tiles are used as tokens offering bonuses to players who draw them. For the purposes of this guide, Optional Tiles will be omitted unless discussing variants involving them.
Pre-Game
Each player chooses a side of the table to sit on. The game of Mahjong begins with the shuffling of tiles. All tiles are to be face-down at this stage. After shuffling, the tiles are arranged in walls that are 17 tiles wide and 2 tiles high. Each player moves a wall to their front, forming a square in the middle of the board.
Determining Dealer
The dealer is the player who goes first. To decide the dealer, two dice are thrown, and the player with the higher value will be the dealer, or the East Wind as commonly referred to. Since turn order follows anticlockwise, the following players are assigned the South, West, and North Winds respectively.
Drawing Hands
Drawing begins from the wall in front of the East Wind player. Each player then draws tiles to form their hands, beginning with the East Wind player. Each player draws a total of 13 tiles, and each variant of Classic Mahjong has different draw rules. In general, all players draw 6 tiles each in turn order and repeat once. Now all players have 12 tiles, and following turn order, each player draws one tile, giving all players 13 tiles.
The game now begins.
The Turns
In Mahjongg, the goal of the game is to build a complete winning hand consisting of 14 tiles, and these hands consist of 4 sets of 3 and a pair.
Since each player starts with 13 tiles, the complete number of 14 is obtained via the draw at the start of each turn. This means each player can only win at the start of their turn.
In the case of the first turn, the dealer, going first, draws one tile from the wall. To end their turn, the player is required to discard one tile of their choosing, placing the discard in the middle of the board face-up. The other players are now allowed to steal the tile by 'claiming'.
To claim a tile, a player calls a Pung, Chow, or Kong. These calls allow other players to steal the discard to complete a set in their possession, assisting them in the win.
When a claim is successfully made, the turns skip to the player, and the draw stage from the wall is skipped, and replaced with the claim. The claiming player is then required to place the completed set face-up in front of their hand. This set, while still considered part of the hand, cannot be touched for the rest of the game.
If no claims are made, the turn goes to the next Wind in anticlockwise order (East, South, West, North).
Due to the nature of the game, each player always has 14 tiles at the start of their turn, either by drawing one from the wall or by claiming a discard. This does mean it is possible for the East Wind to win immediately on their first draw.
Sets
Claims in Classic Mahjong have remained consistent since the beginning of the game, and include the following sets:
Chow
A Chow functions similarly to straights in poker, formed using 3 sequential tiles from the same suit. A Chow can only be called if the tile comes from the player to the left of the caller. An example of a Chow using the Dots suit is shown below:

Chow cannot be made using Honor Tiles.
Pung
A Pung functions similarly to the Three-of-a-Kind in Poker, consisting of three of the same tile of the same suit and rank (when applicable). Any player can call a Pung, regardless of the order, being the most common source of turn skips. Some examples of Pung made using both Suited and Honor Tiles are shown:
Kong
A Kong is made up of 4 identical tiles of the same suit and rank. Since a winning hand needs 4 sets and a pair, as a Kong uses 4 tiles, a player making a Kong is required to draw an extra tile from the Wall to make up for the tile deficit. Due to this rule, a player cannot win with an unrevealed Kong in hand, and has to call and reveal it before winning. An example of a Kong is shown below:
The unique thing about a Kong is that a previously called and revealed Pung can be completed by any player once the final duplicate is drawn. Once the Pung is converted into a Kong, the player adding in the final tile draws another tile to replace the used tile. This is allowed since each tile only has a maximum of 8 duplicates total.
Winning
To win a game of Mahjong, a player needs to build a winning hand of 4 sets and 1 pair. An example winning hand, consisting of 2 Chow, 2 Pung, and 1 pair is shown below:

There is also potential for a draw to occur. This happens when all tiles are drawn from the wall, yet no player has completed the winning conditions. After each round, the Winds rotate anticlockwise, meaning that:
Wind Rotation Mahjong
Wind on Previous Round
Wind on Next Round
East
South
South
West
West
North
North
East
In general, each game lasts until each player has been the East Wind at least once.
Mahjong Rules
The Mahjong rules help resolve conflicts when it comes to multiple calls and penalties due to mistakes. Naturally, different variations of Mahjong have different applied rules, but the basics remain consistent.
Calls
Chows can only be called from discards made by the player on the left. Pungs and Kongs can be called from any discards. There are common situations where multiple players make claims to a discard, and a priority list exists to prevent conflict:
Claims resulting in a win have the highest priority.
Pungs win against Chows, and Kongs win against Pungs.
If multiple identical claims are made, the player next in anticlockwise order will win the claim by default.
Penalties
Since Classic Mahjong is scored using a point system, there are penalties in place to prevent cheating and accidental mistakes that give players an unfair advantage.
When claims are successfully made, the player is required to show the completed set. If the player refuses or fails to show a completed set using the discard, the player will be penalized as described in the Scoring section of this guide.
If any player, at any point in the game, is found to have an incorrect number of tiles (i.e. less than 13 tiles), then the player is forfeited from the round and must reveal their hand. In general, Classic Mahjong follows a basic rule common to all games of Chinese origin. Once a tile is played, even when concealed, it cannot be retracted.
Summary of Rules
In summary, the Mahjong rules are:
All 136 tiles are shuffled face down and built into a square wall.
Turn order is determined using dice throws.
Each player draws 13 tiles.
At the start of each turn, a player draws a tile of claims the discard of a previous player.
At the end of a turn, a player is required to discard a tile from their hand.
The discard can be claimed by other players to complete Chows, Pungs or Kongs.
If no claims are made, the turn passes to the next player in anticlockwise order.
A player wins once a winning hand of 4 sets and a pair is assembled.
If no player wins when all walls are depleted, the round ends in a draw.
The turn order rotates in anticlockwise order.
Scoring & Points
Mahjong scoring is based on a point system. Different variations of Mahjong have specific scoring systems, though a common basis is the payout.
Since wins are possible through a draw from the wall or a discard claim, different payouts are possible. If a win results due to a draw from the wall, all players are required to pay double the point value.
If a win results from a claimed discard, the discarding player needs to pay double, whereas the other players simply pay the point value of a hand.
The point value of a hand is based on the hand composition. While winning hands generally consist of 4 sets and a pair, there are special conditions that can further double the payout. Examples are listed below:
Concealed hand – has no revealed sets.
7 pairs – hand consists of 7 pairs (this is the one exception to the 4 set 1 pair rule)
Single suit – All sets and pairs are from a single suit with Honor tiles.
Pung or Kong only – Hand consists of no Chows.
Dragon tiles – Hand consists of a Pung or Kong of Dragon tiles.
Special hands are implemented in other versions of Mahjong, awarding extra points to players who manage to assemble these rare hands. In general, a list of these special hands can be found in the ruleset of each specific variant.
In certain Eastern variants of Mahjong, drawing a Flower or Season tile will immediately give a portion of the payout to a player.
Mahjong Hands
Mahjong hands have 14 tiles and consist of 4 sets and a single pair. A typical winning hand is shown below:

This hand consists of 2 Chows, 2 Pungs, and 1 pair. This is a typical winning hand in classic Mahjong and is applicable to most other versions of the game.
Special Hands
Some hands that award bonus payout are shown below, though it should be noted that this is not a full list, since different variations of Mahjong have different rulesets. The following list is general but should apply to most variants without issue.
Seven Pairs

Four Winds

Consists of 3 pungs of Wind tiles, a random tile, and a pair of the final Wind. Also applies to 4 pungs of Wind tiles and a pair of another tile.
Three Scholars

Pung or kong with all 3 Dragon tiles, any set of chow, pung, or kung, and any pair.
Nine Gates

Consists of 3 ones, 3 nines, and the 2-8 tiles of any suit, followed by any tile of the same suit. This hand must be concealed.
Thirteen Orphans

Consists of the terminal tiles of each suit, and every single Honor tile, followed by a tile that forms a pair. This hand must be concealed.
All Kongs

A full hand consisting of 4 kongs and a pair.
East Wind Instant Win
Achieved when the East Wind dealer wins with the starting hand and draw.
Instant Win via Discard
Achieved when a player wins from the dealer's first discard.
Strategy & Tips
One of the biggest parts of Mahjong strategy is to count discards. Understanding that there are only 4 duplicates of each tile in the whole set is important, as Pungs are the most common set. This allows you to plan out your discards.
Chows are easier to form than Pungs. If your draw from the wall unlocks the possibility of a Chow, it is worth breaking up your Pungs with discards. Note that Chows are worth less in the stricter point-based variants.
Constantly rearrange your hand. Skilled players can make reads to analyze your hand, so moving tiles constantly can keep them from accurately discerning your tiles.
Keep tiles concealed. In most cases, you do not need to reveal tiles unless you make a claim. Even then, keeping a Pung concealed can be better than claiming for a Kong, since it keeps your discard options open. Note that in some variations of Mahjong, concealed hands are worth more than revealed hands.
Chinese Variants
Standard Chinese Mahjong
As discussed, Chinese Mahjong is the core experience, with no extra rules or win conditions. In most households, special hands are removed completely, focusing entirely on building the standard winning hands of 4 sets and 1 pair.
A more competitive variation of Classic Mahjong, with specific point calculations based on the fan system. Extremely popular in casinos in Hong Kong and Taiwan, as well as in cities in China.
Sichuan
Sichuan Mahjong is a simplified version taking inspiration from the American variant, with no Chows allowed, resulting in a fast-paced game.
Wuhan Mahjong
Includes a special Laizi tile, that can be used as a wild tile, and adds elements of Japanese Riichi with strict winning conditions.
Changsha
Changsa Mahjong is similar to Wuhan where specific tiles have to be in hand to win, but removes Honor tiles to streamline gameplay.
Tianjin Mahjong
The Tianjin version adds 7 Joker tiles, and scores based on the use of those wild tiles.
Shenyang
Normally timed to ensure quick gameplay. Shenyang Mahjong includes rules that force players to think on their feet, such as the necessity of Pongs before Chows. Despite the speed, there are no instant wins.
Taiwanese Mahjong
Specific to Taiwan, hands involve 16 tiles, and lets multiple players win by claiming a discard.
Singaporean – Malaysian
Singaporean – Malaysian Mahjong is based on the Hong Kong version and adds in 4 special Animal tiles, and uses special melding conditions not seen in other variations of the game.
Other Variants
One of the most complex versions of Mahjong, with specific win conditions based on yaku that must be achieved. Beginners should have a list by their side to understand the rules in more detail.
An Americanized version of Mahjong with Chows removed. Instead, players can form extensions of Pungs and Kongs with 5, 6, 7, or 8 similar tiles. Winning hands are based on the list provided by the National Mah Jongg League.
A simplified version of Mahjong played with 16 tiles in hand. Honor tiles are unused in-game and immediately discarded upon drawing. This results in a more fast-paced game compared to the rest of the versions.
Vietnamese
Specific to the country of Vietnam, this game-type uses a total of 168 tiles, with added Jokers and bonus tiles, though certain areas have been known to add even more duplicates of Jokers for quicker games.
Thai
In Thailand the game Includes extra tiles, bringing the tile total to 168, one of the highest among all Mahjong styles. These extra tiles include Jokers for use as wild tiles.
Puzzle Style
Arguably more of an art form, there are different versions such as Shisen-Sho and Solitaire Mahjong. These games are not competitive, and instead single-player. The player has to remove tiles in pairs to clear the board of all tiles arranged in special shapes.
Mah Jongg Gallery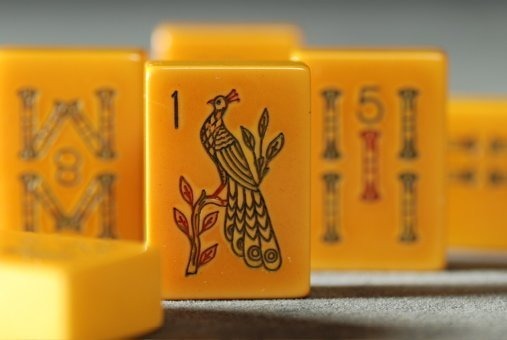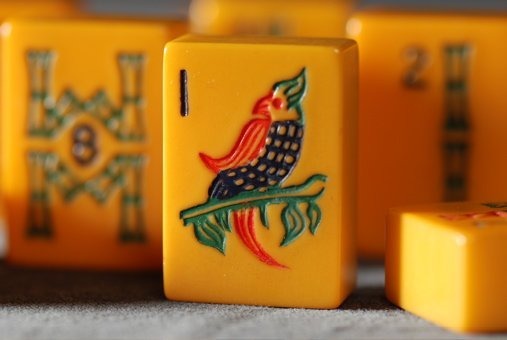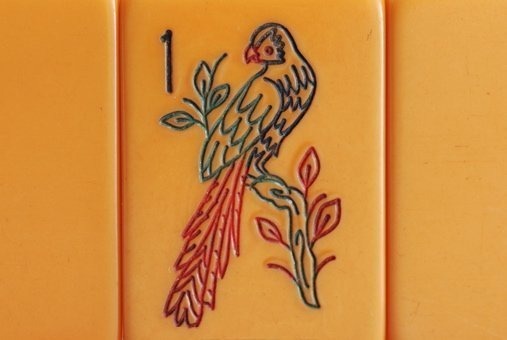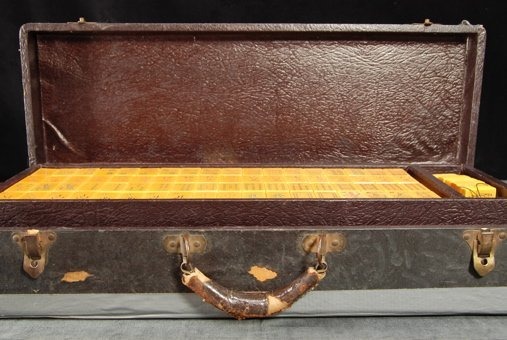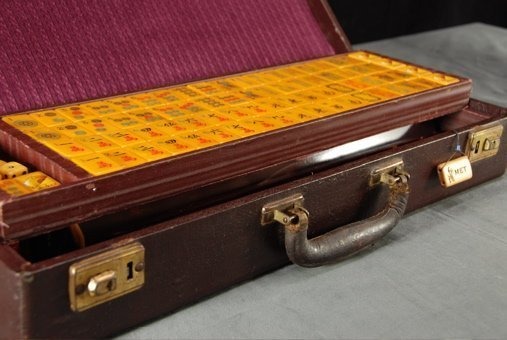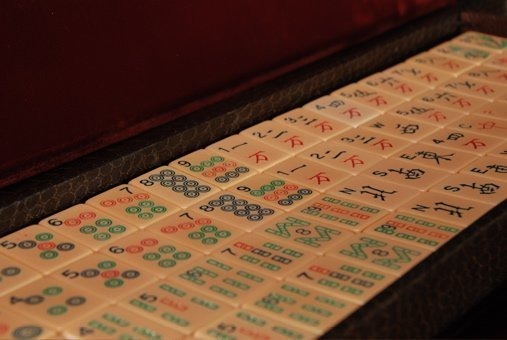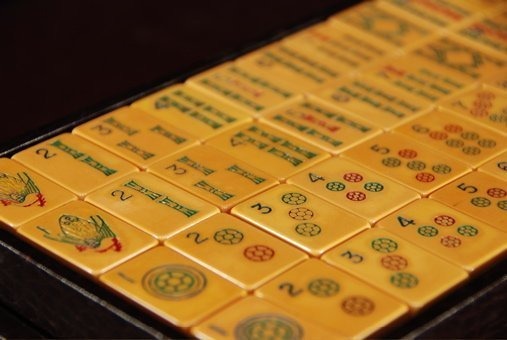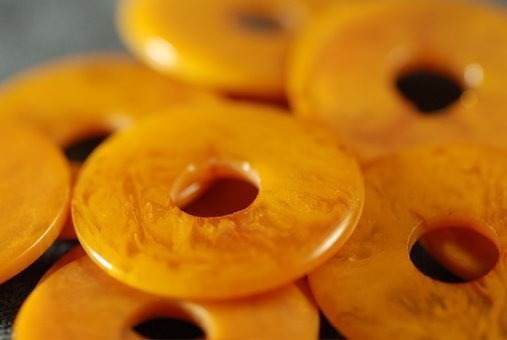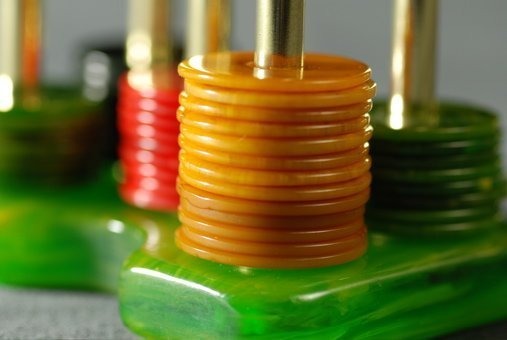 Frequently Asked Questions
What version should I start with?
In most households, Classic Mahjong with no extra rules is played as a pastime, and with a slightly more simple ruleset, this can serve as a great introduction to the world of Mah-Jongg.
Where can I play Mahjong online?
Simulators designed for each specific variation of Mahjong are available online. Most are based in Flash and can be played on your computer or your smartphone.
Can I play competitive Mahjong with less than 4 players?
Yes, and most rules remain the same. It is common for players to leave the table, making the game proceed in 2 or 3-player continuations. Find a list of competitive Mahjong tournaments here.
How long does a game of Mahjong last?
The duration of each game of Mahjong depends on the players and their luck, as certain rounds can be over before the completion of a cycle. In general, games last 4 rounds each, averaging around 45 minutes per round.