Introduction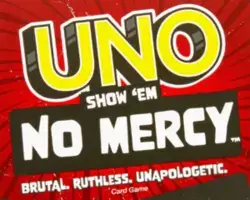 UNO Show 'Em No Mercy is a more intense and ruthless version of the classic UNO card game. With additional cards and harsher penalties, this UNO edition adds new challenges and tactics to outplay your opponents.
Brush up on these new rules and be prepared to show no mercy!
What is Needed
To play the UNO Show 'Em No Mercy card game you'll need:
The special deck of playing cards, containing 164 cards (compared to just 108 in a standard deck).
The number of players can range from 2 to 10.
A flat surface to play on.
Goal
The goal remains to get rid of all your cards, but there are more ways to force opponents to draw extra cards in hopes of mercy kicking them out.
Deal and Setting Up
First, shuffle the deck and deal 7 cards to each player.
Place the remaining cards facedown in a draw pile.
Flip the top card from the draw pile and place it next to the pile to begin a discard pile.
Gameplay
The first player begins by matching the color or number on the top discard card. If unable to match, they must draw cards from the draw pile until they can play. The play continues clockwise.
There are two ways to win a game of UNO Show 'Em No Mercy:
Be the first player to empty your hand by playing all your cards or
Be the last player remaining after all other players have been knocked out from the 'Mercy Rule'.
Special UNO Show 'Em No Mercy Rules
The game introduces four new rules on top of the traditional gameplay. Let's have a look at them below!
Stacking Rule
The stacking rule allows players to combine and stack draw penalties of the same type.
For example, if a Draw 2 card is played, the next player can play their own Draw 2 card, passing the penalty to the third player who must now draw 4.
This can continue with additional Draw 2s, Draw 4s, Draw 6s, and Draw 10s being stacked until a player cannot stack and must take the accumulated penalty.
Strategic use of stacking can force opponents to draw large numbers of cards!
7's Swap
When a player puts down any 7 card, whether a numbered 7 or a Wild Draw 7, they immediately swap their entire hand of cards with another player.
Both players take their new hand and gameplay continues as normal.
Savvy players will use this to try and ditch high card hands while saddling an opponent with extra cards.
0's Pass
When a 0 card is played, all players must pass their current hand of cards to the left, with the player on their left now taking their cards.
This mass hand swap can radically change the game as players are forced to play with an entirely new set of cards.
Mercy Rule
If any player ends up with 25 or more cards in their hand at the end of a turn, they are immediately knocked out of the game.
Since the goal is to force opponents to pick up cards through actions like stacking and wild draw cards, eliminating players once they hit 25+ cards is considered the "mercy" rule to end prolonged suffering.
Card Meanings
Below you can find an explanation of the different card meanings for UNO Show 'Em No Mercy.
Wild Reverse Draw 4
This acts as a wild card, allowing you to change the color and reverse the turn order. Plus, the next player has to draw 4 cards from the draw pile and lose their turn.
Wild Draw 10
This wild card forces the next player to draw 10 cards!
Skip Everyone
Probably the most powerful card, this allows you to immediately take another turn, skipping over all other players.
Discard All
When you play this card, all players must look in their hand and discard all cards that match the color of the Discard All card.
Wild Color Roulette
The next player chooses a color, and then draws cards from the deck until they get a card of that color. All drawn cards are added to their hand and they lose their turn.
Skip
When played, this card skips the next player's turn.
Reverse
When a reverse card is played, it reverses the direction of play. For example, if the play is currently clockwise, a reverse card changes it to counter-clockwise.
Draw 2
When this card is played, the next player in sequence must draw 2 cards from the draw pile and lose their turn.
Wild
A wild card allows you to change the color of play to any color of your choosing.
Numbered Cards
These are the basic cards, numbered 1-9 in each of the 4 colors (red, blue, green, yellow).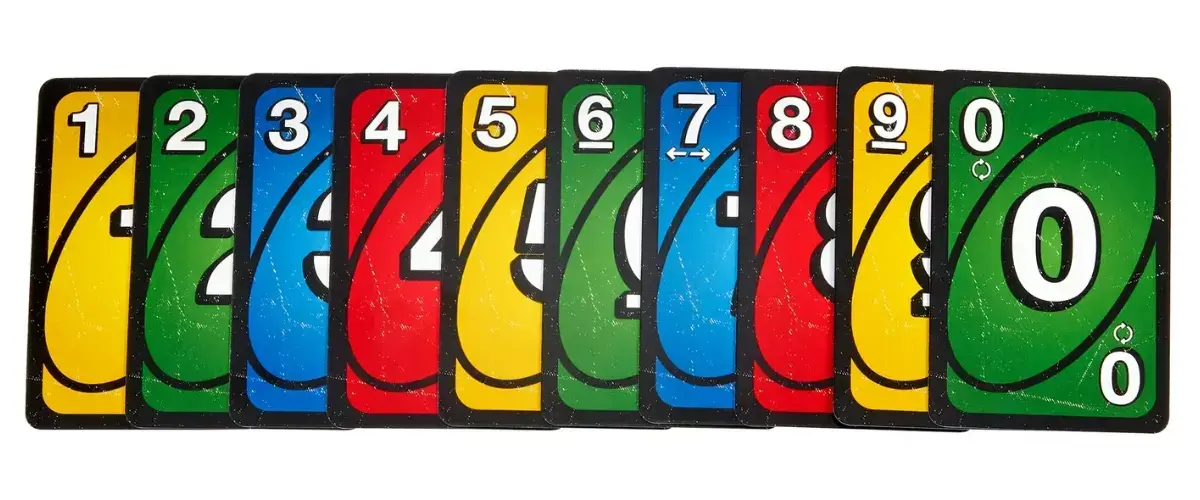 Card List
| Card | How Many |
| --- | --- |
| Numbers (0-9) | 80 |
| Discard All | 12 |
| Skip | 12 |
| Reverse | 12 |
| Draw 2 | 8 |
| Draw 4 | 8 |
| Skip Everyone | 8 |
| Wild Color Roulette | 8 |
| Wild Reverse Draw 4 | 8 |
| Wild Draw 6 | 4 |
| Wild Draw 10 | 4 |
Rules Summary
A summary of the essential UNO Show 'Em No Mercy rules can be found below:
Match cards by number or color
Use traditional action cards to skip, reverse, and draw
Use new special cards like Wild Draw 10 and Discard All
Use new rules like Stacking, Swapping 7's, and Passing 0's
Mercy Rule: 25+ cards in your hand knocks you out of the game
Get down to 1 card and say "UNO"
Win by emptying your hand or being the last player standing
All in all, with more ways to force opponents to draw cards, the UNO Show 'Em No Mercy edition requires skill and strategy to outlast and outplay the competition.
You May Also Like